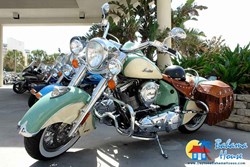 With Biketoberfest just weeks away there are several travel deals out there however none that compare to the rates and amenities that we can offer at the Bahama House Hotel
Daytona Beach, Florida (PRWEB) September 11, 2013
The Bahama House Hotel in Daytona Beach, Florida announces 15% off hotel bookings for travel from October 16th – October 20th, 2013. Bikers looking to stay in a Daytona Beach Hotel will enjoy the many conveniences the Bahama House Hotel has to offer including its proximity to Daytona Beach Attractions and Orlando, Florida theme parks.
To take advantage of this Florida vacation special travelers are asked to use promo code Bike13 when making their reservation by calling 1-888-687-1894 or booking online at http://www.daytonabahamahouse.com. Upon check-in travelers will receive a free Daytona Beach Biketoberfest 2013 Pocket Guide.
Rates always include free wi-fi, an open bar happy hour featuring call brands, beer, wine and soft drinks as well as hot popcorn and other munchies and a daily deluxe continental breakfast. Bikers will also enjoy plenty of free parking.
"With Biketoberfest just weeks away there are several travel deals out there however none that compare to the rates and amenities that we can offer at the Bahama House Hotel" states Blaine Lansberry, Vice President of Sales and Marketing for Bahama House Hotel.
Lansberry adds "Biketoberfest attendees are looking for Florida vacation rentals however many rentals do not offer gated, covered parking or a bike wash facility. Our hotel offers a secure underground parking area for bikers and we offer free bike washing. This is very important to bikers."
"There are many hotels in Orlando that offer reasonable accommodations however at the Bahama House hotel we are just minutes from Main Street, Daytona Beach where all the action takes place for Bike Week. We are really an ideal hotel for bikers to enjoy their Florida vacation" explains Lansberry.
The Bahama House Hotel is located at 2001 South Atlantic Avenue, Daytona Beach, Florida 32118. Hotel guests are minutes from the Daytona Beach Airport and the famous Daytona Beach Band Shell.
When staying at the Daytona Beach Bahama House Hotel October Bike Week guests will be minutes from all the Biketoberfest hot spots including Harley Davidsons' Destination Daytona. Lansberry states "there are many things to do in Daytona Beach, families love coming to visit us too. Between the Daytona Beach free summer concert series, Daytona International Speedway, the Daytona Beach Boardwalk and the various festivals that come to Daytona Beach visitors usually need more than a week long stay. Many travelers love our variety of Daytona Beach restaurants too. It's really a destination where you can be on the go as you like or kick back and relax in one of our beachfront chairs!"
The Bahama House Hotel in Daytona Beach received the 2012 and 2013 Certificate of Excellence Award from TripAdvisor.com. This certificate is a highly sought after award in the hotel industry especially among the all inclusive resorts. The Daytona Beach area is host to hundreds of hotels, vacation rentals by owners, condos for rent and timeshare rentals. The Bahama House Hotel is the only hotel property in the Daytona Beach area to have received this special award for two years in a row.
For beach vacations in the Daytona Beach Florida area travelers can take advantage of this special savings of 15% off their stay in October. "Inventory will fill up quickly so we encourage our guests to book now while there are many hotel room choices to choose from" adds Lansberry.
For more information or to book this Biketoberfest Bike Week special, travelers are asked to call 1-888-687-1894 or book online at http://www.daytonabahamahouse.com and mention promo code Bike13.