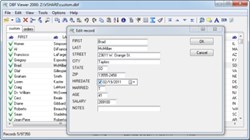 DBF Viewer 2000 has really made my work much easier and faster.
Seattle, WA (PRWEB) September 04, 2013
Typically, database systems provide decent tools for any kinds of manipulation over DBF files. FoxPro, Clipper, dBase and other products supporting this popular database format provide ways to create, edit, manage, and search in DBF files. Though, when it comes to massive amounts of database files, one may prefer less cumbersome option to process those files easily.
DBF Viewer 2000 v5.1 developed by HiBase Group combines swift operation and a straightforward interface to allow easy editing, viewing, search and exporting of dbf database files. With overall installation size below 5 MBs, the tool provides a full spectrum of DBF manipulation functions executed at surprisingly fast pace. The well optimized core, unique processing algorithms and thorough testing ensure extremely high speed of operation comparing with competitive solutions. Among features offered as standard are flexible modifying of records, fields and tables; customizable exporting to 12+ formats; the support for extra large databases (over 2GB); convenient Undo/Redo commands; adjustable interface and many other cool options.
The new version of the program implements Microsoft Excel's XLSM format importing as well as exporting of memo fields to XML format. The enhanced context menu allows quick duplicating of table records and memo field copying and pasting.
With its rich exporting capabilities and a lot of crucial functions including DBF structure analysis, convenient and fast modification of data, renaming of fields and records in a database, DBF Viewer 2000 continues steady evolution towards the fastest and the most convenient offer on the market.
DBF Viewer 2000 v5.1 is available for Windows 95/98/2000/XP/Vista/7/8, 32- and 64-bit editions. The license costs range from $49.95 for a personal license to $999.95 for a worldwide unlimited license.
The trial version of the program is available for download from official site: http://www.dbf2002.com.