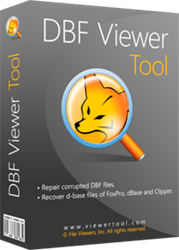 a powerful solution for opening and restoring corrupted DBF database files.
Sacramento, CA (PRWEB) October 29, 2013
Viewer Tool, a leading supplier of specialized file repair and recovery tools, as well as format-specific file viewers, is pleased to present DBF Viewer Tool, a compact and fast viewer and a highly efficient recovery tool working with corrupted DBF database files. http://www.dbf.viewertool.com/
The program supports DBF databases created in FoxPro 2, Visual FoxPro, dBase IV, Clipper and a number of other popular database products. The just-released version of DBF Viewer tool is based on an advanced file analysis engine capable of restoring data even from seriously damaged files, and an intuitive UI built around a step-by-step wizard. http://www.viewertool.com/
The integrated preview module enables users to view the structure of the database being recovered and assess the scope of recoverable data. The program is also capable of restoring the content of associated MEMO field files and saving data in a number of DBF formats selected by the user. At the end of each recovery session, the program shows a log file with statistics on the current recovery attempt. http://www.viewertool.com/products.html
"The previous version of DBF Recovery Tool had always shown good sales results and received great feedback that we carefully listened to while preparing to launch the next version. Now that it's out, we can say without bragging that DBF Recovery Tool is the best program of its kind – especially since it combines the functionality of a viewer and a recovery tool," explained CTO of Viewer Tool.
The free demo version of DBF Recovery Tool is available for download from the official website of Recovery Tool. http://www.viewertool.com/downloads.html