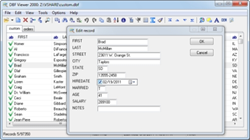 Seattle, WA (PRWEB) May 29, 2014
DBF Viewer 2000 has received a number of positive reviews by magazines and users as a convenient and affordable tool to manage DBF files with extremely lightweight and straightforward interface. Despite the size, DBF Viewer 2000 contains a lot of professional level functions including filters, advanced DBF exporting and format conversion, data and structure modification capabilities and many more.
DBF Viewer 2000 supports all DBF file formats: dBase III/IV, Foxpro, Visual Foxpro and dBase Level 7.
At the same time the program operates faster than many other tools, including those that are built-in into DBF database management frameworks, thanks to the special algorithms inside and thorough optimization including support for multi-threading and multi-core CPUs. The versatility of the application is also impressive: the support for dozens of database formats, customized reports, full Unicode compatibility, command line execution and other options are available for advanced users.
In May, HiBase Group decided to run a special discount campaign offering its multi-purpose tool with 25% discount. The offer makes DBF Viewer 2000 one of the most affordable DBF tools on the market, and with all the capabilities of the program, this is really a bargain. The regular price will return on June 1st.
DBF Viewer 2000 is available for Windows XP/Vista/7/8/8.1, 32- and 64-bit editions. The license costs range from $49.95 for a personal license to $999.95 for a worldwide unlimited license.
The trial version of the program is available for download from official site: http://www.dbf2002.com.
HiBase Group Company offers DBF Viewer 2000, DBF Recovery, DBF Converter and other database applications. Each tool is a polished devoted instrument with maximum capabilities enveloped into a minimalistic yet functional interface.