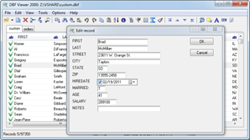 Seattle, WA (PRWEB) July 29, 2014
When dealing with large volumes of dbf files, a mass processing tool is a must. Options built into standard DBMS rarely deliver full-scale capabilities and often lack support for some formats. Conversely, DBF Viewer 2000 features both versatility and a great range of functions to work with dbf databases including creating, viewing, editing, exporting, changing structure and format of dBase, Clipper, FoxPro, Visual Foxpro files, and that already was noticed by press and users worldwide. No wonder: thanks to enhanced support for multi-core CPUs the program processes dbf databases at very high pace, while remains very easy to use.
It is tiny yet very efficient tricks that differentiate good tools from really cool ones, and DBF Viewer 2000 is certainly one of the latter. DBF structure analysis, one-click renaming of fields in a database, full-featured command line operation and the Windows 8 support are just the tip of the iceberg.
In July HiBase Group announces a traditional summer discount, so the otherwise affordable tool becomes even more budget-friendly. Now anyone can purchase this excellent tool for all-around dbf editing with 25% discount. The deal is time-limited: http://www.dbf2002.com/order.html.
"We know that many database administrators and developers are in constant look for a simple yet capable tool to work with existing or new databases," says Sergei Ovsannikov, a leading developer at HiBase Group. "With its pro-level performance, extensive exporting functions to 12+ formats, and the July price tag, DBF Viewer 2000 is likely to be the most affordable professional DBF editor on the market."
DBF Viewer 2000 is available for Windows XP/Vista/7/8/8.1, 32- and 64-bit editions. The license costs range from $49.95 for a personal license to $999.95 for a worldwide unlimited license.
The trial version of the program is available for download from official site: http://www.dbf2002.com.
HiBase Group Company offers DBF Viewer 2000, DBF Recovery, DBF Converter and other database applications. Each tool is a polished devoted instrument with maximum capabilities enveloped into a minimalistic yet functional interface.