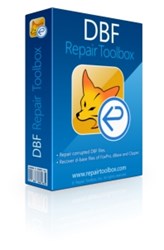 a DBF recovery tool that offers outstanding speed, ease of use and efficiency of data recovery.
Sacramento, CA (PRWEB) February 19, 2014
Repair Toolbox, a recognized expert in the field of data recovery and developers of multiple file repair tools, is happy to announce the recent release of DBF Repair Toolbox. The program was created with a single purpose of assisting users with ultra-fast and reliable DBF database recovery. http://www.repairtoolbox.com/
The program enables users to save time and money by performing the recovery on their own within minutes from a data corruption incident. This DBF recovery tool features a simple, self-explanatory interface that makes human errors impossible and reduces the entire procedure to a few simple choices and confirmation clicks. http://www.dbf.repairtoolbox.com/
DBF Repair Toolbox fully supports DBF files of all formats created in the most common database management systems, including dBase III-IV, FoxPro, Clipper, and others. The software identifies and restores all major database elements, such as cell values, tables, and contents of MEMO fields, and extracts them to a safe location. While recovering data from a damaged database, the program makes sure that the data encoding is properly converted to remain readable in the destination file.
Compatible with all versions of the Windows OS, the product has a very modest size of the installation file and requires absolutely no additional components to be installed in the system to operate properly. Recoverable data can be previewed in a supplied preview module and saved to a new DBF file of the necessary format. http://www.repairtoolbox.com/products.html
"We are delighted to have finally presented the new DBF Repair Toolbox, one of the most sought-after products from our portfolio. It's a big day for us and for the program," explained Ivan Bobrov, CEO of Repair Toolbox. "This tool is a must-have for professional network administrators and developers, and we hope to see many more new customers in the months to come."
The official demo version of DBF Repair Toolbox can be downloaded from the company's website. http://www.repairtoolbox.com/download.html