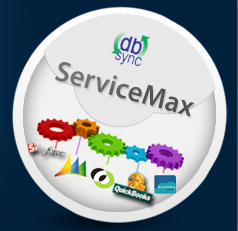 We are constantly developing our products in response to the feedback received from our customers.
San Fransisco, CA (PRWEB) March 18, 2015
DBSync today announced it has joined the ServiceMax Marketplace to seamlessly perform accounting integration for ServiceMax and popular accounting softwares like QuickBooks, Microsoft Dynamics GP, NAV and more.
With its real-time cloud integration solution, DBSync allows ServiceMax users to access a variety of enterprise systems such as QuickBooks, Microsoft Dynamics GP, NAV, Intacct and Accounting. With the integration support provided by DBSync, ServiceMax users will have better, easier access to various records such as:

Accounts
Contacts
Work orders and work details with customers
Jobs, invoice and line items
"We are constantly developing our products in response to the feedback received from our customers," said Rajeev Gupta, CEO of DBSync. "We felt that by integrating with ServiceMax and joining the ServiceMax Marketplace, we would be able to better serve field service technicians. As an industry leader, we care about continually evolving to provide the best products and services we can for our loyal customers."
"As organizations increasingly turn to technology to deliver flawless field service and empower their employees to turn customers into raving fans, it couldn't be a better time to aggregate the most promising solutions in a single marketplace," said Dave Yarnold, CEO of ServiceMax. "The 34 partners in the ServiceMax Marketplace are able to address the unique, needs of field service organizations, helping them to deliver better service to their customers and keep our world running."
Through this integration, ServiceMax users will be able to improve productivity by reducing double data entry and increase data visibility across multiple systems. Users will also have a seamless experience by reduced A/R by automating payments, reports, workflows and alerts. They can also integrate with other applications like e-commerce to simplify business.
For more on DBSync, please visit http://www.mydbsync.com/integration/servicemax or call 1-877-739-2818.
About DBSync
DBSync is a leading provider of data management and replication and application integration for the CRM (Salesforce, Microsoft Dynamics CRM and more), accounting (QuickBooks, Microsoft Dynamics GP & NAV) and data integration markets. With easy to use pre-built maps and powerful Extract, Transform, and Load (ETL) capabilities, DBSync enables users to easily link information between leading Cloud and On-premise based CRM, Accounting, Hospital Asset and Case Management applications, accounting applications, along with support for on-premise applications running databases. DBSync provides support, training and consulting services for its integration solutions and is headquartered in Nashville, Tennessee, with centers in Bangalore, India. DBSync focuses on providing integration solutions through its Integration Platform As A Service - iPaaS offering.
All other trademarks are owned by its respective companies.