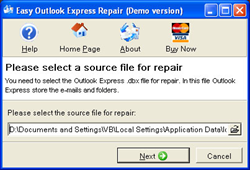 enables users to restore the contents of damaged Outlook Express DBX files.
Sacramento, CA (PRWEB) March 03, 2014
Recovery Toolbox, one of the most respected and successful developers of specialized data recovery tools for the mass market, announces the release of the most advanced and fast version of Easy Outlook Express Repair, its remarkably intuitive and efficient DBF extractor. http://www.mail-repair.com/extract-dbx.html
The newest release features countless minor improvements, tweaks and optimizations that make the work of the program more stable, fast and predictably efficient. The main improvement of the newest version of Easy Outlook Express Repair is a completely redesigned file analysis and data recovery engine developed by Mail Repair engineers. http://www.mail-repair.com/download.html
Now based on a set of highly efficient proprietary algorithms, the engine flawlessly handles the most complex and severe cases of DBX file corruption, and gets the job done in situations where competing solutions appear helpless. The program is intended for a very broad audience comprised of users with all skill levels, from novices to IT veterans. Therefore, the interface of the program was simplified to the maximum to present as few difficulties for beginners as possible. http://www.mail-repair.com/faq.html
This DBX extractor supports all versions of the DBX format, works on systems with all major versions of Windows OS and requires absolutely no additional components to be installed, making it a truly universal Outlook Express recovery tool that works "out of the box".
"Our new data analysis and recovery engine is now powering more and more of our products, including the latest Easy Outlook Express Repair," noted Victor Bobrov, CTO of Recovery Toolbox. "We hope to secure the leading position on the market of recovery tools for mainstream applications and the release of an improved version of our DBX extractor is yet another step towards this goal."
The free demo version of Easy Outlook Express Repair can be downloaded from the official website of Recovery Toolbox Inc. http://www.mail-repair.com/