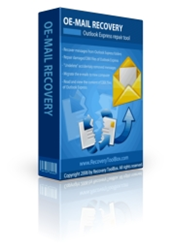 an advanced DBX extractor capable of restoring the contents of the most seriously damaged Outlook Express data.
Sacramento, CA (PRWEB) April 14, 2014
Recovery Toolbox, a leading supplier of data recovery solutions for a wide range of applications, both general and specialist, releases a completely rewritten version of OE-Mail Recovery, its best-selling DBX extractor. Now powered by an all-new data analysis core and advanced algorithms, the program delivers more speed, accuracy and overall efficiency than ever, remaining simple and intuitive at the same time. This is achieved through the use of a convenient multi-step wizard that turns the seemingly complex task of data extraction into a smooth process involving a few simple choices and confirmation clicks. http://www.oemailrecovery.com/dbx-extract.html
The program is intended for quick, comprehensive and completely unassisted recovery of Outlook Express data from DBX files damaged in all sorts of data corruption incidents. This DBX extractor supports data recovery from files on the user's hard drive or a network location, and works with DBX files of up to 4 GB in size created in MS Outlook Express of versions 5, 5.5 and 6. Since the product was created for a very broad audience, the interface was simplified to a level that makes it completely accessible to novices and professionals alike. http://www.oemailrecovery.com/outlook-express-extract.html
A built-in file browser enables the user to switch between different source files, select particular items for recovery and preview them prior to initiating the data extraction process. Restored emails are saved as separate files in the user-specified location and can be immediately imported into Outlook Express or any other email application. In addition to working as a DBX extractor, the product can be used for restoring messages accidentally purged from the Deleted folder of Outlook Express. http://www.outlookexpressfix.oemailrecovery.com/
"A great addition to our portfolio, OE-Mail Recovery now delivers even more value to our customers than any of its previous versions," noted Victor Bobrov, Head of Product Development at Recovery Toolbox. "We are glad to offer a tool that has the potential to help restore the work of thousands of people." http://www.readingdbxfiles.oemailrecovery.com/
Compatible with nearly all major versions of Windows and having very modest system requirements, OE-Mail Recovery is a universal solution for anyone looking for a quick and efficient DBX recovery tool. The software requires absolutely no additional utilities or libraries to operate and is ready for work immediately after installation.