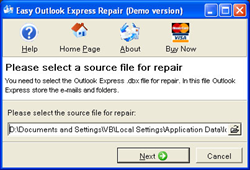 This compact, yet powerful DBX restore product enables users to restore the contents of damaged OE files on their own.
Sacramento, CA (PRWEB) June 03, 2014
Mail Repair releases a new version of Easy Outlook Express Repair, an advanced DBX restore solution suitable for experienced IT professionals and users with no recovery experience at all. This version of the product relies on a completely new data recovery core that is capable of restoring severely damaged and no longer readable Outlook Express storage files. http://www.mail-repair.com/mailbox-restore.html
In addition to improved functionality, the tool offers multiple fixes and optimizations that produce a favorable effect on the overall stability and performance of the program. The product is intended for professional and regular users looking for a DBX restore tool that can be used once or many times to recover the contents of Outlook Express data files damaged after various types of incidents: hardware failures, software bugs, OS crashes, virus attacks and such. http://www.mail-repair.com/
The product supports extra-large DBX files of any structure and version and recovers data even in situations where all of its key competitors fail to open a damage file. The interface of the program follows the same principles that the users of its previous versions came to appreciate: simplicity, intuitiveness and ultimate ease of use. Based on a multi-step recovery wizard, the UI guides users from file selection to data saving and requires just a couple of clicks along the way. http://www.mail-repair.com/faq.html
The solution is perfectly suitable for non-professional users who want to solve the problem of damaged DBX files without handing their emails to somebody else and without having to pay considerable amounts of money to external services. With this DBX restore tool, users get an opportunity to recover data from damaged Outlook Express files quickly and effortlessly.
"We are truly excited to release the newest version of Easy Outlook Express Repair, since this is one of the first tools to feature our updated data recovery core," commented Victor Bobrov, Head of Product Development at Mail Repair. "The new product is faster, more reliable and generally a lot more functional that any of its predecessors. We really hope that the new product will help a lot of users out there to recover from the worst data corruption incidents in a quick and efficient manner."
A free demo version of this DBX restore tool is available for download on the official website of Mail Repair. http://www.mail-repair.com/download.html