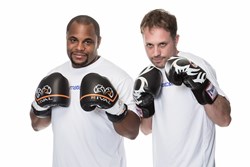 I'm very excited to be a part of the Automatic Body and Nutrie Family. -- Daniel Cormier
Las Vegas, NV (PRWEB) February 21, 2014
It's been a bit of a rollercoaster ride lately for Nutrie Elite Athlete, Daniel Cormier. First came the news that DC's UFC 170 main card opponent Rashad Evans, had injured his knee in training and was pulling out of the highly anticipated match, set for February 22nd in Las Vegas.
The following day, UFC President Dana White came to the rescue with a replacement for Evans, Patrick Cummins. Cummins, a former Penn-State wrestling All-American and former 2004 Olympic teammate of Cormier's, used some rather unscrupulous methods in order to get the attention of the UFC and get on the card with DC. Apparently the mantra of what "happens in the gym stays in the gym" was lost somewhere along the way with Cummins.
Not one to let a loose-lipped opponent get the last word in, Daniel voiced his feelings towards Cummins in a Fox Sports Live interview on February 13th. "Pat Cummins, you got a raise, but you got punished because you're going to have to step into the octagon with me."
Now with Cormier's ride seemingly running at full throttle before the final loop de loop at UFC 170, it was time for the long awaited weigh in. Starting his journey to light heavyweight at 248 lbs back in June of 2013, DC knew he would need a program that would work in conjunction with his team and rigorous training. Along came Automatic Body by Nutrie, with just the right ticket.
"I'm very excited to be a part of the Automatic Body and Nutrie Family. Aaron Parkinson and the company have developed the Automatic Body program and a line of products that have been instrumental in my shedding weight and competing in my natural weight division," stated Cormier. "I'm very excited to be on this journey and I look forward to all my fans and friends taking it with me".
The entire Nutrie family is thrilled to have DC on board and proud of the dramatic results Automatic Body has given him.
To join DC and win prizes for your own weight-loss visit - GET FIT WITH DC
About Automatic Body and Nutrie:
Automatic Body is the first program of its kind. It combines a simple, easy-to-follow program that syncs with your iPhone or Android device and tells you when to do something and how to do it. You just plug it in and let things happen, automatically.
Founded in 2012 with headquarters in Scottsdale, Arizona, Nutrie is a health and wellness company that develops and markets products and programs for consumers to meet their health goals. The company is privately held.
The weight loss results and other health related experiences are not typical, are self-reported, and are applicable only to the individual(s) and do not reflect the results that a customer may achieve. Please see Nutrié's Health Disclaimer located at http://www.nutrie.com for more details.