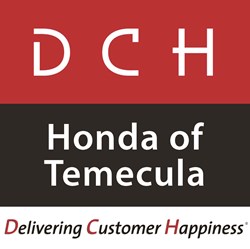 We wouldn't be as successful as we are today without our valuable, committed, hard-working and ethical employees.
Temecula, Calif. (PRWEB) September 18, 2013
DCH Honda of Temecula has been ranked one of eight California dealerships in Automotive News' list of 100 "Best Dealerships to Work For in North America."
This annual Automotive News list is in its second year and is committed to honoring new-car dealerships in the United States and Canada who are dedicated to providing a high-quality work environment.
"The 'DCH' acronym stands for Delivering Customer Happiness, which we believe begins with happy employees," said Ken Colson, Vice President of DCH Auto Group Temecula. "We employ local residents who value the importance of relationships and the well-being of friends and family more than anything, and provide them with opportunities to grow both professionally and personally."
The dealerships named to this prestigious list excel in workplace satisfaction, talent retention and fair treatment of their employees.
"We are honored to be among the top dealerships to work for, and we ensure each and every employee feels appreciated and understands the difference they are making within our organization," said Colson. "We truly are a team here at DCH Honda of Temecula, with the common goal of delivering a high-integrity approach to selling vehicles. We wouldn't be as successful as we are today without our valuable, committed, hard-working and ethical employees."
Automotive News will honor the top dealerships at a ceremony on Oct. 17 in Chicago. A full list of the top dealerships can be found here.
About DCH Honda of Temecula:
Located in Temecula Valley, DCH Honda of Temecula boasts a strong and committed sales staff with many years of experience specializing in satisfying its customers' needs. The dealership provides VIP treatment to its guests, including manicures, massages and Starbucks coffee. It is dedicated to giving back to the community in multiple ways, most notably through its involvement with the DCH Teen Safe Driving Foundation, affiliated with SADD (Students Against Destructive Decisions). Temecula Valley is in Riverside County and is one of California's fastest growing new communities, known for its great climate and award-winning wineries.
About DCH Auto Group:
Founded in 1977, DCH Auto Group has more than 27 new and used car dealerships in New Jersey, New York, Connecticut and California, offering such distinguished automobile brands as Acura, Audi, BMW, Chrysler, Dodge, Jeep, Kia, Honda, Lexus, Nissan, Scion and Toyota. It is the largest automotive group in New Jersey, and among the top ten auto groups in the United States in terms of new vehicle retail sales. DCH Auto Group has received numerous awards inside and outside the auto industry for exceptional sales and service and for contributions to business and the community.
###