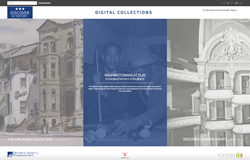 Making collections readily available online is a priority, and I am pleased that we have created an important new way for the public to research, collaborate, and innovate.
Portland, ME and Washington, DC (PRWEB) December 23, 2015
History technology and consulting firm HistoryIT and The Historical Society of Washington, DC, announced today the release of a new web portal – Discover DC History – that tells rich stories from the history of the nation's capital and allows the public to search and view items in the archive. The new digital archive is just one of the results of a grant from the City Fund awarded to the Historical Society of Washington by the Community Foundation for the National Capital Region. The grant funded the creation of a plan to digitize many of the organization's historic collections and begin the digitization process. The new Discover DC History site contains nearly 1,000 items, including contracts, correspondence, deeds, photographs, postcards, ephemera, and three-dimensional museum artifacts, some of which have never been seen before by the public. This is a small sample of the Historical Society's vast collections focused on Washington's local history from the 17th century to the present. HistoryIT has also completed a preliminary assessment to evaluate the Historical Society's existing catalog, which includes approximately 100,000 records, as well as all of the materials housed at its headquarters in the Carnegie Library at Mt. Vernon Square, and has produced a strategic digitization plan, informing the Historical Society how best to digitize and make accessible its vast holdings over the next few years.
The new site features a curated exhibition entitled "Washingtonians at Play." Visitors can also simply explore items from collections that have been hidden away for years in the "Discover Unseen Images" section. HistoryIT's digital collections technology ArchivesTree allows viewers to search items across collections and by item type. The Historical Society's digital initiative is an ongoing project. More of the collections will be added to the site on a continuous basis, and as more stories are uncovered, the Historical Society will release new curated exhibitions. The new digital archive provides exciting, unprecedented access to the history of the people and places of the nation's capital, which will only grow over time.
"We are particularly happy to announce this new digital platform – we have been building our digital presence and this website is the best way to demonstrate the breadth of our collection. Making collections readily available online is a priority, and I am pleased that we have created an important new way for the public to research, collaborate, and innovate," said John Suau, the Historical Society's Executive Director. "Thanks to the City Fund support, we have dramatically increased visibility and accessibility to our collections. We now provide a digital library for everyone in the world to learn about the history of Washington, D.C."
Dr. Kristen Gwinn-Becker, CEO of HistoryIT, described the new site as "a rich resource for people of all ages interested in Washington's past." She continued, "At HistoryIT, we are dedicated to creating digital spaces that bring history to the general public as well as the researcher. We are excited to continue to work with the Historical Society to build and turn this web portal into an ongoing asset that will provide the public and media with interactive digital history experiences."