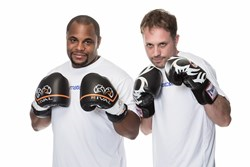 It had to happen this way, he could not have gone the distance. I'm mad that Cummins even hit me twice because of all the talking he did. -- Daniel Cormier
Las Vegas, Nevada (PRWEB) February 22, 2014
After dedicating himself to the Automatic Body program, Cormier debuting in his official match as a light heavyweight contender, reaching his target goal of 205 lbs in the weigh-in Friday night. Cormier cut down his weight in a notable effort to avoid fighting his good friend and gym partner, Cain Velasquez, in UFC's heavyweight division.
Cormier was originally slated to fight against Rashad "Suga" Evans, who injured his knee in training and was forced to withdraw from the event. There were brief rumors that Cormier and Evans would postpone their fight in April, until UFC President Dana White announced that Cormier's former wrestling training partner and current coffee shop barista, Pat "Durkin" Cummins was up for the fight.
Despite Cummins' cheap attempts to undermine Cormier's confidence with personal claims, what he ultimately proved was that all he's got is a big mouth.
From the moment the ref called "FIGHT", Cormier was all over Cummings, brought the KABOOM and sealed the deal with the TKO at 1:19 of the FIRST ROUND! There is no question that DC is a force to be reckoned with in UFC.
"I'm very excited to be a part of the Automatic Body and Nutrie family. Aaron Parkinson and the company have developed the Automatic Body program and a line of products that have been instrumental in my shedding weight and competing in my natural weight division," stated Cormier. "I'm very excited to be on this journey and I look forward to all my fans and friends taking it with me."
To join DC and win prizes for your own weight-loss, visit - GET FIT WITH DC.
About Automatic Body and Nutrie:
Automatic Body is the first program of its kind. It combines a simple, easy-to-follow program that syncs with your iPhone or Android device and tells you when to do something and how to do it. You just plug it in and let things happen, automatically.
Founded in 2012 with headquarters in Scottsdale, Arizona, Nutrie is a health and wellness company that develops and markets products and programs for consumers to meet their health goals. The company is privately held.
The weight loss results and other health related experiences are not typical, are self-reported, and are applicable only to the individual(s) and do not reflect the results that a customer may achieve. For optimal results, products are recommended for use in conjunction with the Automatic Body program.
Please see Nutrié¹s Health Disclaimer located here for more details.