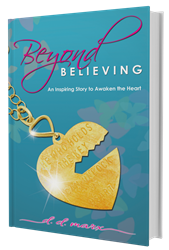 Hard times test our faith and can often leave us confused about the future. Follow the voice in your heart telling you where to go.
(PRWEB) February 24, 2015
Author D.D. Marx had one question in mind while writing her novel Beyond Believing: what would happen if she could visit with her best friend one last time? The novel, a touching story of friendship and the important roles that friends play in our lives, is rooted in D.D.'s own experiences. In 1993, her best friend Dan tragically died in a car accident. He has still continued to be a guiding presence in Marx's life, and her first novel is a fictional retelling of her and Dan's story.
Beyond Believing is the inspiring story of Olivia, a woman who is floundering and trying to find new meaning in her life after her best friend Dan is killed in a car accident. She struggles to discover a way to go on living and fill the void in her heart until she eventually decides to stop looking for something and open herself up to the world. It is then that Dan is able to come to her and guide her from beyond into a life filled with new experiences that she never expected to find, including a new love who heals her spirit like never before. Olivia, with Dan's help, is able to find a fulfilling life full of love that she never would have expected.
Beyond Believing is D.D. Marx's love letter to friendship, exploring life and loss and love. It is the first in a series, set to be followed by Beyond Love and Beyond Forever. Pre-orders for the first book are now available at Amazon at http://amzn.to/1BK4pMF, just in time for this Valentine's season. A great gift for yourself or anyone in your life, Beyond Believing is a truly moving story that will awaken your heart, keep you guessing, and remind you that there are never any coincidences.
D.D. Marx
D.D. Marx has always been a social storyteller, always looking for new friends and new ways to tell stories. If friendship were a business, she would be a millionaire.
She graduated from the University of Dayton with a degree in communication and spent some time working before entering the Second City Program in Chicago. Realizing that everything she'd done was pointing her in one direction, D.D. decided to become a writer, using her own experiences in life to inspire her debut project, the Beyond Series.