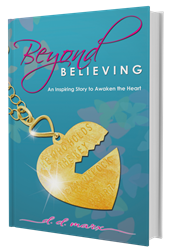 I'm excited to share Finn and Olivia's love with the world through the inspiration of my personal life story.
(PRWEB) April 07, 2015
Author D.D. Marx's first novel, Beyond Believing, is rooted in her own experiences of life, loss, love, and friendship. She channeled all of her feelings surrounding the death of her own best friend into the book, exploring what it would be like to communicate with him one last time.
Beyond Believing is the inspiring story of Olivia, a woman who struggles to discover a way to go on living and fill the void in her heart after her best friend Dan is tragically killed in a car accident. She is eventually able to stop searching for meaning all on her own and opens herself up to the world. It is then that Dan is able to come to her and guide her from beyond into a life filled with new experiences that she never expected to find, including a new love who heals her spirit like never before. Olivia, with Dan's help, is able to find a fulfilling life full of love that she never would have expected.
Beyond Believing is D.D. Marx's love letter to friendship, a great way for her to show the world everything that she has learned from her life experiences. It is the first in a series, set to be followed by Beyond Love and Beyond Forever. The book is being launched on April 7th, 2015 by Next Century Publishing, and D.D. could not be more excited.
With the release of the book, D.D. has planned several events to celebrate with others. On April 6th, 2015 in Ottawa, Illinois Marx will be holding a book signing at Hank's Farm restaurant. The event will involve a sit-down dinner featuring Italian-American dining options. Every person who attends will receive a signed copy of Beyond Believing. Anyone interested in this event should call the Book Mouse at 815-433-9323 for a reservation.
The next book signing will be on May 23rd in Naperville, Illinois. It will be held in Anderson's Bookshop, and those interested in going can contact the shop to preorder their copy of Beyond Believing to have for Marx to sign at the event now!
You can contact Anderson's Bookshop here: http://www.andersonsbookshop.com/contact.
D.D. Marx
D.D. Marx has always been a social storyteller, always looking for new friends and new ways to tell stories. If friendship were a business, she would be a millionaire.
She graduated from the University of Dayton with a degree in Communication and spent some time working before entering the Second City Program in Chicago. Realizing that everything she'd done was pointing her in one direction, D.D. decided to become a writer, using her own experiences in life to inspire her debut project, the Beyond Series.