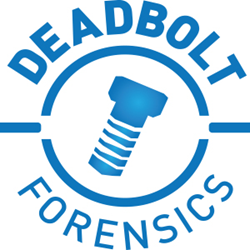 "Most clients are surprised when they learn about the types and quantity of electronic evidence that can be recovered. It is a very volatile field and what is possible changes constantly." - Michael Yasumoto, Managing Principal of Deadbolt Forensics
Beaverton, OR (PRWEB) December 16, 2014
Managing Principal of Deadbolt Forensics®, Michael Yasumoto, recently delivered a presentation entitled "Mobile Forensics for Investigators" to the Metropolitan Public Defender in Hillsboro, Oregon. The presentation introduced investigators to mobile phone forensics and prepared them to use evidence recovered from mobile devices to support court cases.
As an experienced Systems and Security Analyst, Yasumoto has worked with a wide variety of public and private organizations since completing his graduate education. During his tenure, Yasumoto observed a need for real expertise in the area of computer forensics – leading him to found Deadbolt Forensics®. As a company, Deadbolt Forensics® delivers the winning combination of technical skill, practical experience, and robust credentials that are highly valued by clients and the court system. In a short time, Yasumoto has developed a strong reputation of credibility and integrity in the greater Seattle area and beyond.
The recent presentation to the Metropolitan Public Defender was designed so that participating investigators would walk away knowing what evidence can be recovered from mobile devices, and how it can be used to support their cases. It also provided an overview of Cell Site Analysis (CSA), and delved into how Call Detail Records (CDR) are often inappropriately used to locate a person at a specific place and time. As part of its comprehensive menu of services, Deadbolt Forensics® also offers similar training to attorneys for CLE credit.
"Electronic evidence and digital forensics are subjects that the majority of currently practicing attorneys didn't learn about while in law school. Most clients are surprised when they learn about the types and quantity of electronic evidence that can be recovered. It is a very volatile field and what is possible changes constantly."
Visit the Deadbolt Forensics® company website at http://www.deadboltforensics.com for additional information.
About Deadbolt Forensics®
Deadbolt Forensics® is a privately held company focused on computer and mobile phone forensics and the associated services of data preservation, electronic evidence retrieval, analysis, neutral expert witness services, hard drive sanitization, and password/data recovery. The company works directly with attorneys and litigation support teams in both criminal and civil cases supporting plaintiff and defense clients. Deadbolt Forensics® accepts clients in the states of Oregon (Registry# 906073-92), Washington (License# 603343020), and Alaska (License# 1000625). For more information on pro bono services offered to partners in the non-profit sector, please contact publicrelations(at)deadboltforensics(dot)com.