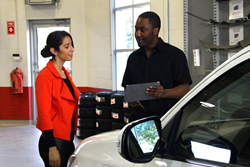 We've been driving to ensure that service departments are ready to respond to the connected customer. It not only makes good business sense, but our technology contributes to dealership efficiency, more engaged customers, and sales optimization.
Las Vegas, Toronto (PRWEB) November 19, 2015
Dual Recognition Demonstrates Solid Management, Leadership, and Broader Footprint
Dealer-FX continues its ascent in the automotive software space with the announcement that it has ranked on both the Deloitte Technology Fast 50™ and Technology Fast 500™ lists.
The North American Technology Fast 500™ recognizes the fastest growing technology, media and telecommunications companies and is based on percentage of revenue growth over 4 years. The Technology Fast 50™ is amongst Canada's preeminent technology awards programs celebrating leadership, innovation and excellence in the technology sector.
Dealer-FX made its mark last year achieving Technology Fast 500™ recognition; this year, the company has exceeded expectations and thrust itself into the upper rankings on that list for a second consecutive year. This is a testament to an awesome team, management consistency, and the rate at which leadership has successfully pursued a growth agenda.
As a progressive leader in connected service lane technology, Dealer-FX has demonstrated successful engagement with OEM clients who are increasingly looking for new ways to drive customer retention within their dealerships. Customer confidence in traditional service departments has been eroding over time driven by impressions of advisors hiding information behind terminals. Now OEMs are determined to reverse these perceptions and drive an enhanced customer experience. Dealer-FX and its proprietary mobile and tablet friendly technology solutions provide transparency to the customer, while arming service departments with easy to access tools that have successfully proven to contribute toward enhancing the brand experience, building trust with customers, and simultaneously driving their bottom line.
President and CEO, Gary Kalk, who recently expounded the successes of this client-centric approach in Las Vegas at the Fixed Ops Conference earlier this month, is excited about the direction of the company. "We've been driving relentlessly toward ensuring that service departments are ready to respond to the connected customer, not only because it makes good business sense, but because our technology contributes toward dealership efficiency, more engaged customers, and sales optimization."
Dealer-FX's software powers multiple OEM service departments both in the United States and Canada. "The Technology Fast 500 and Fast 50 rankings are just the thin edge of the wedge as we drive our successes in North America, globally," says Kalk, from his operational headquarters in Toronto. "We have good traction and are poised to drive these benefits deeper into both the U.S. and Canadian markets, as well as extend our footprint internationally in 2016."
Dealer-FX's solutions provide a mobile platform with advanced and intuitive user interfaces. They have also expanded the breadth of their offerings with Recall Management integration, and a forthcoming Route Sheet, the ultimate dynamic display in real-time customer lifecycle management, which will provide predictive customer journey analytics to enable dealerships to better manage operational efficiencies, improve retention, mitigate customer defection, and drive repeat purchases. The company has also provided customized integration to include intelligence-based data mining for lease renewals and trade cycle management to assist dealerships in augmenting their new vehicle sales within the service department.
To learn more about Dealer-FX's commitment towards driving the future of connected service lane technology, please visit http://www.connectedservicelane.com.
About Dealer-FX
Dealer-FX (http://www.dealer-fx.com), the most trusted name in automotive customer experience and relationship management, is focused on helping dealer and OEM clients to Drive the Customer Experience by enhancing customer retention, mobile, data, and connected car strategies. Their 1 Solution suite of service tools provides integrated software that delivers a sales to service transition, online scheduling, appointment ledger, route sheet, recall management, vehicle status board, seamless DMS integration, advisor and technician dashboards, data mining for lease renewals and trade cycle management, in addition to supporting vehicle telematics and diagnostic data integration.
Dealer-FX recently received a strategic growth investment from HGGC, a leading middle market private equity firm and has since formed a strategic alliance with AutoAlert, the automotive industry's leading data-mining and sales opportunity-generation platform.