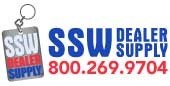 Our goal at Dealer Supply is to be a one-stop shop for all automotive dealer supplies.
St. Louis, MO (PRWEB) December 03, 2013
Store Supply Warehouse, located in St. Louis, MO, recently launched SSW Dealer Supply, a subsidiary dedicated to servicing the automotive dealer industry. Stocking and selling over 1,000 of the most popular automotive dealership supplies, SSW Dealer Supply's product line includes car lot balloons and vehicle promotional items among others.
"Our goal at Dealer Supply is to be a one-stop shop for all automotive dealer supplies," said Matt Wohlstadter, President of SSW Dealer Supply. "We know that the recent economic climate has made selling vehicles more competitive than ever. Whether you are in need of advertising or back office supplies we have everything in stock and ready to ship at the lowest price, guaranteed."
To ensure that customers save the most money on every purchase SSW Dealer Supply features a special feature called "More Room in The Box", which allows the customer to purchase more items without any added charge for shipping. This feature was designed to inform customers that there was more room in the box for added value.
Along with its 110% price match guarantee, SSW Dealer Supply also offers same-day shipping on orders placed before 3:00pm CDT. All inventory is stocked and ready to ship. For more information or to sign up for its brand new 64 page catalog, please visit the website at http://www.sswdealersupply.com/.
About Dealer Supply
Dealer Supply was founded in 2013 as a subsidiary of Store Supply Warehouse. Selling automotive dealer supplies, which includes balloons, pennants, auto dealer forms, service department supplies, car dealer flags, dealership streamers, on vehicle advertisements, dealership signs and key storage and accessories. Products are available for purchase through Dealer Supply's 64-page catalog, which is updated and distributed three times a year, or online at http://www.sswdealersupply.com/ Guaranteed same day shipping is received on all orders placed before 3 p.m CDT. The company's main office is located at 12955 Enterprise Way, Bridgeton, Missouri, 63044. Contact Store Supply directly at 800-269-9704 or by email at contactus(at)sswdealersupply(dot)com.