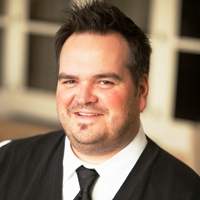 I get to be a part of a company with the most impressive website platform I've seen...and I couldn't be happier!
Derwood, MD (PRWEB) March 19, 2014
Today, DealerOn, the leading website provider to car dealers, announces the hiring of Shaun Raines as their new Vice President of Marketing. Since 1998, Raines has held leadership roles with Reynolds and Reynolds, DealerAdvisor LLC, ReachLocal and most recently, DrivingSales.
"Shaun is such a talented and well respected individual," said Ali Amirrezvani, DealerOn's CEO, "that we couldn't be more excited to have him as a part of our Management Team. At DealerOn, our goal is to add team members that improve all facets of our business. Shaun's experience and energy compliments our culture of high performance. His automotive digital marketing knowledge is freely shared and it's one of the reasons why he is so highly regarded in the industry. The DealerOn family has known Shaun personally and professionally for several years and we couldn't be happier to welcome him to the team."
DealerOn's new responsive website platform, just released at NADA 2014, was a huge success among dealers at the show. The platform automatically optimizes itself for any form factor or screen regardless of device. This platform provides a necessary solution for car dealers, given that the average dealer's site receives traffic from nearly 1,000 unique screen resolutions each month. DealerOn's new platform is currently in Beta, with its full release scheduled for May 1, 2014.
Said Raines, "I'm truly honored and excited to join one of the most amazingly competent and capable teams in the automotive industry. In the early part of my career with Reynolds Web Solutions, I discovered how much I loved working with dealer websites. Now, I get to be a part of a company with the most impressive website platform I've seen and digital marketing services for dealers that cover Search, Social and Reputation, and I couldn't be happier."
Before joining DealerOn, Raines worked at DrivingSales alongside Jared Hamilton and Kevin Root to plan, develop and build the automotive industries most trusted source for online education. With flexible learning options, DrivingSales University serves as a valuable knowledge and training platform for industry associations, dealer groups, OEM's, single point dealers and individuals. Raines concluded, "I joined the DealerOn team to share every bit of my experience and ability in the effort to provide dealers with the best performing websites and complimentary digital marketing services in the industry. The opportunity is incredible and I'm so happy to be working with such a dealer focused team."