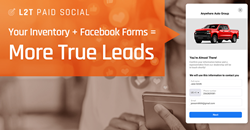 "By creating lead ads with VDPConnect we can effectively build ads with a dealer's current inventory and boost leads from paid social traffic." says Jeff Kaufman, VP of Product & Strategy, L2TMedia. "We have seen our dealers Click Through Rates increase by 21%"
CHICAGO (PRWEB) February 22, 2022
L2T is excited to announce its all-new Paid Social advertising feature called VDPConnect for Lead Generation. This lead capturing tool generates a reduced CPL (Cost Per Lead), that on average is 13% less than a standard Facebook ad.
We have taken the Facebook lead ad format and made it better by merging it with VDPConnect to dynamically create ads based on a dealer's in-stock inventory to engage customers at the final stages of their car buying journey.
Facebook users will see a carousel style ad with the models they researched online, but instead of going back to the VDP, they are seamlessly provided with auto-fill form, so a dealer gets a True Lead in directly into their CRM.
How This Ad Format Works:

Dealer inventory is captured and delivered to Facebook with L2T's proprietary technology.
Dynamic ads are created based on in-stock inventory.
Call to Action is included on the ad for the customer to click.
Once clicked, a Facebook user's information is auto filled into the form.
Form is submitted and sent to the dealer's CRM as a True Lead
"L2T has seen success with Facebook's Lead Ad format, but we wanted to find an even better solution for our dealers." says Jeff Kaufman, VP of Product & Strategy, L2TMedia. "By creating lead ads with VDPConnect we can effectively build ads with a dealer's current inventory and boost leads from paid social traffic. We have seen our dealers Click Through Rates increase by 21%"
This ad format is available now! Contact our team of automotive marketing experts to learn how to incorporate VDPConnect for Lead Generation in your Paid Social strategy.
About L2TMedia:
Established in 2007, L2TMedia brings more than a decade of automotive digital experience to retailers. L2T has a robust suite of digital products and has become one of the premier service providers of digital marketing solutions in the automotive industry. We partner with a range of dealership groups and OEM certified programs to help dealers build awareness, engage customers, and generate leads.
For more information, visit l2tmedia.com.
###