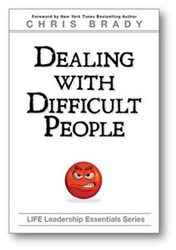 You are going to encounter difficult people. Plan on it. Prepare for it. Become good at it.
(PRWEB) October 02, 2014
LIFE Leadership, located on the web at http://www.lifeleadership.com/, offers a variety of materials to help people from all walks of life handle the day-to-day challenges in both their personal and professional lives. Founders Orrin Woodward, Chris Brady, Tim Marks, Claude Hamilton, Bill Lewis, George Guzzardo, Dan Hawkins, and Rob Hallstrand help people find ways to deal with the obstacles that arise during the normal course of the day and to overcome the common problems to which everyone can relate. Now, they are releasing their latest self-improvement guide, 'Dealing with Difficult People,' as part of their LIFE Leadership Essentials Series.
Starting with the premise that relationships are an important part of every area of life but that encountering difficult people now and then is inevitable, the authors of 'Dealing with Difficult People' suggest preparing ahead of time for difficulty with negative people who seem determined to throw up roadblocks to peace and success so that such moments can actually become constructive instead of damaging. They say, "You are going to encounter difficult people. Plan on it. Prepare for it. Become good at it."
With this expectation that foresight and advanced preparation will enable readers to more quickly and easily resolve any issues, the book offers insight into the seven main types of difficult people and practical tips for dealing with each. And it provides a Five-Step Peace Process for turning confrontations into positive, professional interactions that seek win–win solutions beneficial to all parties involved.
Full of conflict resolution tips and strategies, 'Dealing with Difficult People' aims to give people the tools they need to deal with all types of difficult people in both their work and personal lives so they can experience more fulfilling and rewarding relationships and make more progress toward their goals with less frustration and hassle. It's available through LIFE Leadership at http://bit.ly/1rJIhM8.
About LIFE Leadership:
LIFE Leadership focuses on teaching time-tested principles, cutting-edge methodologies, and the right ways of thinking that enable people to improve their personal and professional relationships and achieve success in every area of life. The company offers advice that is honest, useful, and practical for what it calls the "8 Fs" of life: Family, Friends, Finances, Faith, Fitness, Fun, Following, and Freedom. Business executives, entrepreneurs, teachers, parents, community leaders, pastors, housewives, child care workers, and others can all find help for increasing their leadership effectiveness and living the life they've always wanted in the books, audios, videos, online personal development radio station, podcast recordings, live events, and more from LIFE Leadership.