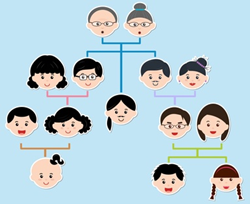 Chicago, IL (PRWEB) April 28, 2014
DeathCertificates.us.org is launching an education program to teach people how to use genealogical methods to build a family tree quickly and easily, the company said yesterday.
"We've taken a good hard look at the types of questions we receive from our customers," a DeathCertificates.us.org spokesman said. "What we've realized is that most of them are using our service to build their family trees. But they often don't have much experience with basic genealogy. So, it makes sense for us to provide them with that information because it will make using our service that much more valuable to them."
DeathCertificates.us.org will work with genealogical experts to create a series of articles that will take people step by step through basic techniques to create a family tree, he said.
"A huge demographic for us are new mothers who want to create family trees for their children," he said. "But new moms don't have a lot of free time on their hands. They need to do things as efficiently as possible. We can show them how to do that and make sure that everything goes smoothly."
The articles will be published on the DeathCertificates.us.org website and also released through social media, he said.
"Once someone knows how to correctly do their research, it doesn't take that much time at all to build a family tree," he said. "Our goal has always been to make life as easy as possible for our customers. This is one way to do that."
About DeathCertificates.us.org:
DeathCertificates.us.org is the top online resource for accessing death and obituary records in the United States. With over thousands of records to search through, DeathCertificates.us.org makes finding any death record simple and efficient. Visit DeathCertificates.us.org today to chat with a live representative, 1-855-674-7444, or email manager(at)DeathCertificates(dot)us(dot)org with any questions or concerns.