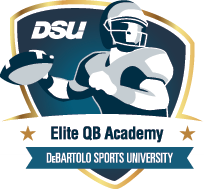 San Rafael, CA (PRWEB) March 28, 2014
The new DeBartolo Football Academy season begins with Quarterback Academy in Jacksonville and Oklahoma City.
Spring Break Quarterback training will take place in Jacksonville, Florida from March 15-17 & April 18-20 and in Oklahoma City, Oklahoma from March 22-24. Each Quarterback will receive approximately 20 hours of position-specific instruction (12 hours on the field and 8 hours in the classroom).
"DeBartolo Sports University is excited to team up with US Sports Camps once again in 2014" said Donald Engstrom, Executive Director of DeBartolo Sports and Events. "Debartolo Sports' reputation as one of the best quarterback development programs in the country continues to grow, USSC is a valuable partner in increasing that visibility."
DeBartolo Sports and Events amateur football division was founded by former five-time Super Bowl champion San Francisco 49ers owner Edward DeBartolo Jr, with a vision to improve and help athletes and coaches realize their skills, talents, and potential through unparalleled, first-class developmental programs.
About US Sports Camps
US Sports Camps (USSC), headquartered in San Rafael, California, is America's largest sports camp network and the licensed operator of NIKE Sports Camps. The company was started in 1975 with the same mission that defines it today: to shape a lifelong enjoyment of athletics through high quality sports education and skill enhancement.
Players, coaches, parents and others interested in DeBartolo Sports Elite Quarterback and Wide Receiver Training Academy can visit ussportscamps.com/football/debartolo/ or call 1-800-433-6060.