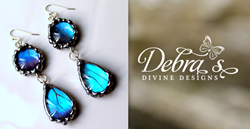 I consider my jewelry wearable art for the soul.
London, Ontario, Canada (PRWEB) December 31, 2014
Debra Lynn Jeffries, founder of Debra's Divine Designs (http://www.DebrasDivineDesigns.com), is pleased to announce that actress Nakia Burrise (as Patty Pritchett) wore the company's handcrafted Blue Butterfly Glass Domed Teardrop Earrings on episode 401 of CW's Hart of Dixie.
In addition, Debra is sending her Bubble Butterfly Wing Necklaces to GBK's 2015 Golden Globes Celebrity Gift Lounge, in association with The Artisan Group®. There, they will be included in The Artisan Group swag bags, which are highly sought after by Hollywood celebrities and VIPs. A Women's Full Blue Butterfly Necklace and a Men's Blue Butterfly Leather Cuff will be on display at the Artisan Group exhibit. The Gift Lounge takes place January 9-10, 2015 at an exclusive location in Hollywood, California.
The Hart of Dixie episode ("Kablang") aired December 15, 2014 on The CW Network. The wardrobe stylists for Hart of Dixie selected the handcrafted Blue Butterfly Teardrop Earrings for use after receiving them in a Stylist Gift Bag from The Artisan Group. The Artisan Group is a California-based arts promotion and celebrity gifting organization, of which Debra is a member.
The teardrop earrings worn by Ms. Burrise are part of Debra's Butterfly Jewelry Collection. They showcase recycled broken butterfly wings of the Blue Morpho Zephyritis Butterfly. Similar earrings are available to purchase online at DebrasDivineDesigns.com.
Debra states, "I use only ethically sourced wings in my collection. The butterflies and moths fly in freedom until they naturally expire on global butterfly farms. There, workers collect them to be distributed to local dried specimen suppliers. I purchase many broken wings to utilize in small pieces like the Teardrop Earrings."
Debra notes that the global butterfly farms which are the source for her components provide employment and education and support conservation efforts that encourage the release of healthy specimens back into the wild.
The Bubble Butterfly Wing Necklaces that will be included in The Artisan Group celebrity swag bags feature a circle-shaped pendant that highlights butterfly and moth wings in multiple colors, which Debra has carefully cut to shape. The pendants have a gunmetal finish and hang on an 18 inch long gunmetal chain. Says Debra, "The pendant is fun to look at and wear. Both sides are domed, which creates a bubble effect. The domes magnify the scales and markings on the wings, which shows off their beauty."
Debra's jewelry has been included in exclusive The Artisan Group® gift bags prepared for Earth Day 2014, the 2013 Primetime Emmys and 2013 and 2014 New York Fashion Weeks. It has been mentioned on ImNotEvenKidding.com, Shoply.com and HouseEcoFriendly.com. Last March, a Morpho Butterfly Wing Necklace was photographed being worn by Ariel D. King, winner of the 2014 Queen of the Universe Pageant.
When Debra is not making jewelry, she enjoys teaching about butterfly farming, conservation, recycling for reuse and how to think green. "I love making art that helps people look beautiful and feel good about themselves. I consider my jewelry wearable art for the soul."
Members of the press who would like to learn more about Debra's Divine Designs may contact her by email using the email button on the right. Also, visit her business pages on Facebook, Instagram, Pinterest (@debrasdivinedesigns) and Twitter (@DesigningDebra). For press inquiries regarding The Artisan Group, visit theartisangroup.org or email press[at]theartisangroup[dot]org.
*This event is not affiliated with the Golden Globes award show; Debra's Divine Designs is not in any way affiliated with the Academy of Television Arts & Sciences.
About Debra Lynn Jeffries and Debra's Divine Designs
Debra Lynn Jeffries (http://www.DebrasDivineDesigns.com) is an established jewelry designer known worldwide for her handmade real butterfly and insect wing artisan jewelry. Debra is recognized for her wide selection of recycled real butterfly and insect wing pendants, necklaces, earrings, rings, bracelets and more. Her authentic butterfly wing jewelry showcases a wide selection of trendy designs and recycled metal pieces, from sterling silver and copper wire wrapped bracelets, necklaces and rings to fused glass pieces. Her butterflies and insect specimens are purchased from a licensed supplier. Butterflies are ethically farmed. Debra says, "Every item I make is created with the finest materials and utmost artistic integrity. All my jewelry pieces are original and created in my London, Ontario, Canada studio."