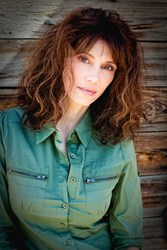 "Thank you for that beautifully realized performance. So powerful and moving!" Leslie Harrell Dillen - Actress, Playwright
Santa Fe, NM (PRWEB) October 18, 2013
It's rare to call someone a working actress in New Mexico, but that is just what is happening to Santa Fe actress Debrianna Mansini. After completing two features and a short this summer, Ms. Mansini has been working non-stop in the theater with Janet Davidson's For Giving Productions. The two teamed up earlier this year with a touring production of Nora Ephron's "Love, Loss and What I Wore" playing to standing ovations across the state and in Durango, Co. They followed that with standing ovations in "Imagining Brad," a two woman show (Mansini played opposite Judith Jones Arute) which plumbed the depths of domestic abuse through an unlikely church friendship. With the closing of that performance, Ms. Mansini went on to work on the new Robert Redford produced feature film "Drunktown's Finest/Dry Lake," directed by a young Native American woman, Sydney Freeland, and "Persecuted," where she plays an FBI agent opposite Raoul Trujillo.
Now, Mansini and Davidson team up again for the Albuquerque premiere of "Good People" at The Vortex Theatre. Both Mansini and Davidson have a strong desire to feature shows that have predominately female roles and strong female characters and shows that have social impact. The New York trained Mansini, writer and producer of the upcoming web series "Reaction 21", believes there are not enough women in all aspects of the industry. "Women's roles have decreased both on stage and screen. If it is within my purview to change it, I intend to do just that," Mansini says. "'Reaction 21' has mostly women characters, playing roles where women are smart and doing jobs that men are usually cast doing."
As an actor who is motivated by social consciousness, Mansini is thrilled to give voice to the working poor in her role of Margie in David Lindsay - Abaire's "Good People." And if the Santa Fe audiences are any indication, Albuquerque is in for a treat. David Schwartz, Chairman of the NM Music Commission said, "You were fantastic last night and the play was brilliant - great acting and a totally entertaining performance! Thank you!" This will be the first time a theater production will move from Santa Fe to Albuquerque.
Janet Davidson, whose long television career proves she is no stranger to a male-dominated industry, is thrilled to be producing and directing her first love, theater. "My first directing job in television was 'Cagney & Lacey.' What followed were many wonderful shows with some truly great characters, but that was the exception to the rule. I am grateful to be directing where I can choose to continue this legacy. For Giving Productions is truly excited to be forging this path, now bringing our Southwest premiere of 'Good People' to The Vortex."
"Good People," Lindsay-Abaire's Tony award-winning play, is currently the most regionally produced play in the US. Margie, a tough "Southie" from the wrong part of Boston, runs into her high school sweetheart just after she loses her job for the umpteenth time. She knows all too well she is one Bingo game away from homelessness. In reaching out to her old flame—now a successful doctor—Margie risks everything she holds dear as she tries to regain her economic footing. Will Margie's luck finally change for the better? An insightful comedy of class and culture, this recent Broadway hit is surprisingly funny in the way only Lindsay-Abaire can be, while being gut wrenchingly poignant.
About Debrianna Mansini
Debrianna Mansini (represented by O Agency) is an actress who combines her talent with activism. She is deeply concerned with using the voice of her craft to shed light on women and social justice issues. Her NY roots and training live with her in New Mexico, her enchanted home base, along with her husband, accomplished artist David Forlano.
About The Vortex Theatre
The Vortex, Albuquerque's oldest continuously-running Black Box Theatre, has been a pioneering venue for classic, contemporary, and cutting-edge theatre since 1976. The theatre continues to entertain audiences with some of the city's finest stage productions, from local and national premieres to new interpretations of classic works. The VORTEX is a 501(c)3 (non-profit) organization. The Vortex is located at 2004 Central Ave SE, Albuquerque, NM. Phone: (505) 247-8600.