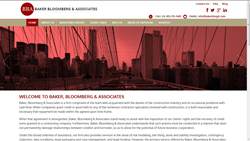 We have successfully resolved hundreds of cases related to debt recovery in Texas and many other areas.
Katy, Texas (PRWEB) June 04, 2014
Baker, Bloomberg & Associates will now offer its top-of-the-line debt recovery solutions to companies in the construction industry as well. It is one of the leading debt recovery solutions providers that offer an exclusive range of services to its clients including risk controlling, legal funding, collecting contingency, investigation of assets and liabilities, legal packaging and case management, data scrubbing and lien filing. The company's team consists of highly knowledgeable and experienced attorneys who specialize in commercial collections and handling litigation procedures. It serves various industries such as construction, transportation, manufacturing, oil and gas, communications and utilities companies. It requires filling up of personal information like name, email, subject and case. The consultancy team makes sure that your information remains confidential throughout.
Speaking about areas of expertise, one of the senior executives working with the company commented, "We have successfully resolved hundreds of cases related to debt recovery in Texas and many other areas. Our wide array of services caters to individuals, organizations -- especially the smaller ones, industries as well as corporations. Whether a person is facing problem in recovering his long-lost debt or they want to know about the current liability status, our expert attorneys can do it for him. We can handle everything from government, commercial, residential, municipal and industrial projects to bonding issues, slow payments, project cash flow, project funding, contract disputes and trades."
One of the areas where attorneys working with the company specialize is construction industry. Being in the business of managing and solving various construction related disputes for several years, the company has gained a great repute in the domestic market, which has further helped it earn a huge clientele base from Texas and many other areas of the US. In construction industry, many disputes can arise between a contractor and the client regarding supply of material, hardware, construction of building, etc. Since the company is familiar with this industry, it can help resolve any dispute with ease and efficiency.
Speaking further, the senior executive added, "We have a huge network of investigators who are experts in handling various disputes that arise between constructors and their customers. Our investigators acquire full details about a particular case and put in all their efforts to make a definite report about it. They make sure that every detail required to win a case is available in the report made by them."
Companies wishing to avail quality debt recovery solutions in Texas can rely on Baker, Bloomberg & Associates.
About Baker, Bloomberg & Associates
Baker, Bloomberg & Associates is one the leading debt recovery solutions providing companies that offer high quality yet cost effective services to individuals as well as organizations for recovering their short term or long term debt. The company specializes in handling disputes related to construction, transportation, oil and gas, communications and manufacturing industries. Anyone looking for debt collection agencies for small businesses can check the services provided by Baker, Bloomberg & Associates. Counted among the leading debt management companies in USA, they can assist clients in several capacities.
Contact Details
Baker, Bloomberg & Associates
20501 Katy Freeway, Katy, Texas 77450
Phone: 855-713-7685
Email: info(at)bakerblegal(dot)com
Website: http://bakerblegal.com/