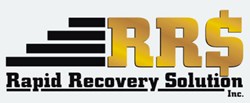 Bohemia, NY (PRWEB) October 20, 2013
Rapid Recovery Solution, Inc. encourages consumers to be proactive about their credit card security.
According to an October 15 article from CBS News titled "5 Ways to Deter Credit Card Fraud" identify theft from plastic has been on the rise. FICO, which tracks and reports crimes in addition to calculating credit scores, has reported a spike in "card not present fraud," which occurs on eCommerce websites and hotlines. While traditional credit card fraud increased 17 percent from 2011 to 2012, "card not present" theft jumped 25 percent in that same span. In response, consumers should consider some basic steps to better protect themselves.
First, frequently monitoring credit card statements would reveal thefts to cardholders. This is especially easy today with the accessibility of online reports. Second, consumers should set passwords to their smartphones and tablets, or wherever online banking and shopping is performed. Additionally, passwords should vary among all websites and applications, preventing access to multiple accounts once a single password is breached.
Fourth, security software is still an essential tool for most electronic devises, but most notably desktops and notebooks. One malicious site could be powerful enough to infiltrate a computer's hard drive and web history and obtain personal information. Lastly, consumers must always be mindful of "spear fishing" and avoid opening any suspicious email or message.
John Monderine, CEO of Rapid Recovery Solution, endorses these suggestions. "While workers with debtors, commercial debt collection agencies frequently hear stories of harmful identity theft schemes. All cardholders must remain mindful of the evolving tactics of cyber criminals." Monderine continues. "It's most important that consumers educate themselves with lists like this to remain one step ahead of digital thieves."
Founded in 2006, Rapid Recovery Solution, Inc. is headquartered at the highest point of beautiful Long Island. Rapid Recovery Collection Agency is committed to recovering your funds. We believe that every debtor has the ability to pay if motivated correctly. We DO NOT alienate the debtors; we attempt to align with them and offer a number of ways to resolve not only your debt but also all their debts.
#####