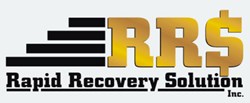 Bohemia, NY (PRWEB) October 30, 2013
Rapid Recovery Solution, Inc. affirms one financial columnist's advice on properly building credit scores.
According to an October 28 article from The Washington Post titled "Paying Down Debt Amid Credit Score Concerns," consumers should restrict their use of credit cards when attempting to rebuild their scores. Personal finance expert Michelle Singletary encourages Americans to avoid new debt altogether when paying down outstanding obligations, such as student and car loans.
In the article, Singletary explains that a common misconception surrounding credit-building scores involves constantly making purchases on credit to subsequently pay off responsibly. While potentially effective, indebted consumers run the risk of maxing out their credit limits by pursuing this strategy. The basic formula for credit scores revolves around the credit utilization ratio, or the amount of credit one assumes in relation to total available credit. Singletary advices individuals and families from closing out accounts and credit cards while paying off outstanding debt, as this would, in effect, reduce their total available credit and negatively impact credit scores.
John Monderine, CEO of Rapid Recovery Solution, weighs in. "Building a solid credit score is essential to obtaining favorable loans with low interest rates in the future. When deciding whether or not to purchase consumers good on credit, individuals must weigh the benefits of such a purchase against the possible implications on their financial standing." Monderine continues. "Michelle Singletary offers valuable guidance in her columns, but any person or family with questions about how to best handle their debt should employ the services of a capable accounts receivable collection agency."
Founded in 2006, Rapid Recovery Solution, Inc. is headquartered at the highest point of beautiful Long Island. Rapid Recovery Collection Agency is committed to recovering your funds. We believe that every debtor has the ability to pay if motivated correctly. We DO NOT alienate the debtors; we attempt to align with them and offer a number of ways to resolve not only your debt but also all their debts.
###