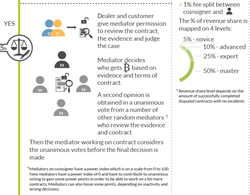 Our platform enables bitcoin trades privately and securely amongst traders in a decentralized way. All transactional data is shared between traders and whomever they allow access only.
New York, NY (PRWEB) September 19, 2013
Coinsigner, a new dispute resolution service allowing decentralized bitcoin exchanges (bitcoin to USD exchanges) and other trades, will be launching its new service two months after a successful fundraising campaign. The service is rewarding its funders with a myriad of goodies such as mastercoins, launch party invitations, free lifetime service, equity, voting rights and many others. The service aims to use the funds for further development and in hiring a sales force targeting NYC malls to spread the use of bitcoin to both retailers and customers. The launch date is set for December 14th 2013, while the campaign is hosted at Bitcoinstarter : a bitcoin only crowdfunding site.
"Our platform enables bitcoins trades privately and securely amongst traders in a decentralized way. All transactional data is shared only between traders and whomever they allow access." said Oladapo Ajayi founder of Coinsigner. This has enabled Coinsigner to develop relationships with several credible bitcoin investors seeking access to more liquid markets available at the launch of the service. Coinsigner will integrate the Mastercoin protocol layer if its development proves successful.
Bitcoin markets have made serious ground in recent months, with the price of a single bitcoin reaching a high of $260 dollars in April 2013. It is expected by several intelligent sources that the bitcoin industry will capture 1% to 10% of the $60 trillion worldwide transactional currency market in the next several years. This equates to between 60 billion to 6 trillion growths in bitcoin value on which Coinsigner is adequately positioned to capitalize.
Bitcoin is a decentralized Internet cash and payment system, free of government control. Miners produce bitcoins; these are people using computer hardware to solve complex mathematical equations - when the equations are solved, then coins are produced as a reward. This is an empowering procedure; the decentralized nature of bitcoin means that trade prices are always fair and directly reflect market demand. There is a downside to most bitcoin trades however, they are all based on trust; trusting a centralized bitcoin exchange such as Mtgox or trusting and meeting a complete stranger. This is a downside that opens up individuals to various risks. In previous times, traders have had little protection against fraud with serious exposures to counterparty risks. Luckily, Coinsigner is stepping in to fill the void – Coinsigner is a revolutionary new service, offering a simple, yet effective way to ensure decentralized bitcoin exchanges are fair and risk-free.
Coinsigner's mission is to facilitate the risk-free, private and successful delivery of bitcoins, by providing a patent pending system enabling traders to adhere to the pre- agreed upon cryptographic contracts. In a scenario that a buyer and seller create a contract for the purchase of bitcoin to USD, the transfer of the USD occurs independent of Coinsigner. Bitcoins are locked on the blockchain and un-spendable by either buyer or seller through a bitcoin specific bitcoin tool called multi-signature transaction. When the terms of the contract secured by the multi-signature transaction aspect of the trade contract have been fulfilled i.e. the buyer and seller parties are both satisfied, then they can follow the rest of the procedure to release the bitcoins to the correct owner, enabling the coins to be spent.
In an ideal situation, this is all that is required. However, if a dispute is raised by any of the traders, the locked bitcoins will not be distributed until an adequate solution has been reached. Coinsigner utilizes 'mediators' to resolve the situation. Evidence from the traders and the terms of the contract are made visible to the mediator; the mediator then has the power to judge who is in breach. Further democratic value is added by extending this vote to other mediators who operate on the site. Their collective vote is returned to the main mediator of the case, who then makes the executive decision to whom the disputed currency should be released.
In order to guarantee the mediation process is fair, mediators are represented pseudonymously, and are assigned to contracts semi-randomly and in order of power in the system. No collusion between customers and mediators can occur. Mediators are incentivized to continuously make the right decisions by a linear increase in pay rate which his dependent upon historically correct decisions. This provides a means of income for crypto-enthusiasts earning bitcoins for doing bitcoin related tasks.
At present, Coinsigner is in capable hands, with its founder Oladapo Ajayi having a track record of bringing a product to market. Oladapo Ajayi started his first company in 2010 with 10 cofounders working on a beneficial mobile marketplace boasting 100,000 applications. The startup was later dissolved due to lack of funding.
Coinsigner has a leg in the USPTO because the method and system of mediating bitcoin transactions is be unique to this site.
Coinsigner is gaining solid ground, as indicated by the hundreds of users ready and waiting on the beta release. The service has also enjoyed a good amount of inquiry from venture capital investment services that eagerly anticipate the full release. If you would like to contribute bitcoin funds to this project, then all pledges via bitcoinstarter.com/project/202 would greatly be appreciated and rewarded.
Coinsigner is a scalable dispute mediation service enabling decentralized bitcoin to USD exchanges using multi-signature transactions and paid mediators. The service allows reversible bitcoin transactions, which eliminates counter party risk thereby making it suitable as a non-trust based decentralized bitcoin exchange system. Find out more at http://www.coinsigner.com