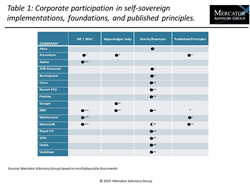 BOSTON (PRWEB) October 09, 2019
Mercator Advisory Group has released Part 2 of a report describing new identity and authentication technology that would collapse identity platforms and authentication platforms into a single solution designed to implement the principles of self-sovereign identity (SSI). The report, Distributed and Self-Sovereign Identity Solutions: Part 2, Implementations and Suppliers, focuses on major participants in development of SSI and the approach they are taking.
The companion report, released by Mercator in August, Distributed and Self-Sovereign Identity Solutions: Part 1, Technology Overview, describes new technologies including Secure DNS, decentralized IDs, and self-sovereign identity, which is an identity and authentication model currently adopted by IBM, Microsoft, and Mastercard.
Mercator Advisory Group sees self-sovereign identity (SSI) as a major revenue opportunity for financial institutions, enabling them to monetize their customer authentication processes and data without compromising customer privacy. However, deciding which of the various rival implementations should be supported is a challenge, and this report is intended to help by profiling the technology providers in this market space.
"Self-sovereign identity (SSI) is a major business opportunity, one that places financial institutions back at the center of their customers' lives and provides value beyond simple deposit, transaction, and lending services. Even better, this position is highly defensible since, once customers have selected a solution, network effects will make it very difficult for them to switch," commented the author of the report, Tim Sloane, VP, Payments Innovation, and Director, Emerging Technologies Advisory Service at Mercator Advisory Group.
Highlights of the research report:

Evernym, Hyperledger Indy, and Sovrin Foundation: Weaving SSI
The Hyperledger Project
SSI technology suppliers
SSI Implementations
Government implementations in operation today
Other market participants
Opportunity for financial institutions
This research report has 21 pages and 4 exhibits.
Companies and other organizations mentioned in this report include: Absa, ABN AMRO, Accenture, Aetna, ANZ Bank, Barclaycard, Blockchain, BNY Mellon, [Province of] British Columbia, Calastone, Cisco, Civic, CLS, CME Group, Coinplug, ConsenSys, Credits, CULedger, Depository Trust & Clearing Corporation (DTCC), Desert FCU, Deutsche Börse Group, Digital Asset Holdings, Evernym, Fujitsu Limited, Guardtime, Hitachi, Hu-manity.co, Hyperledger Indy, IBM, Illinois Blockchain Initiative, Intel, IntellectEU, iRespond, J.P. Morgan, Korea Post, Linux Foundation, MADANA, Mastercard, Metadium, Microsoft, NEC, NewBanking, NTT DATA, OrgBook, R3, Red Hat, Royal CU, SITA, Sovrin Foundation, State Street, SWIFT, Symbiont, Unity Technologies, USAA, Veridium, VMware, and Wells Fargo.
Members of Mercator Advisory Group's Emerging Technologies Advisory Service have access to these reports as well as the upcoming research for the year ahead, presentations, analyst access, and other membership benefits.
For more information and media inquiries, please call Mercator Advisory Group's main line: 1-781-419-1700, send email to info@mercatoradvisorygroup.com.
For free industry news, opinions, research, company information and more visit us at http://www.PaymentsJournal.com.
Follow us on Twitter @ http://twitter.com/MercatorAdvisor.
About Mercator Advisory Group
Mercator Advisory Group is the leading independent research and advisory services firm exclusively focused on the payments and banking industries. We deliver pragmatic and timely research and advice designed to help our clients uncover the most lucrative opportunities to maximize revenue growth and contain costs. Our clients range from the world's largest payment issuers, acquirers, processors, merchants and associations to leading technology providers and investors. Mercator Advisory Group is also the publisher of the online payments and banking news and information portal PaymentsJournal.com.