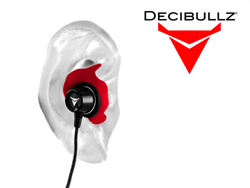 We take great pride in the quality and inventiveness of our design, and are thrilled to be recognized by such an elite organization.
Boulder, CO (PRWEB) November 13, 2013
Decibullz, the recent winner of a CES 2013 Innovations Award, has developed a set of earbuds that can be custom-molded for a personalized fit while offering great sound quality without the high price tag. Decibullz released the first version of their unique custom earphones last year and the company has now developed a second-generation of Decibullz that improves upon the first model in every conceivable way. Improvements to the product include better sound quality, a tangle-free cord, lower profile, greater sound isolation, and a universal microphone with music controls. The new design is also easier to mold to the shape of each individual users' ears. To make the new Decibullz a reality, the company will launch a crowdfunding campaign on Kickstarter where backers can pre-order the new and improved earbuds for as little as $29.
Decibullz's unique design earned the CES Innovations Award due to its outstanding design and engineering in consumer electronics products. The award winners are determined by a three-member judging team comprised of an independent industrial designer, an independent engineer and a member of the trade press.
"We feel so honored to have received this award from such an accredited organization," states Kyle Kirkpatrick, creator of Decibullz. "We take great pride in the quality and inventiveness of our design, and are thrilled to be recognized by such an elite organization."
The Decibullz earbud molds are composed of a biodegradable thermoplastic and come in seven colors (red, black, green, blue, orange, yellow, and purple) that make the molding process remarkably simple. First, the user removes the detachable molds which are then heated in water by a microwave for two minutes each. After that, the user allows the mold to cool to slightly above room temperature before pressing the mold to their ear to achieve an exact fit. The molding material remains pliable for approximately four minutes, allowing ample time for one to mold to their ears. Once the material has settled, the result is an amazingly comfortable earphone that will not fall out. If the fit isn't perfect the first time, Decibullz can even be remolded until the ideal fit is achieved, making them the only re-moldable custom earbuds in the world.
Decibullz will launch a Kickstarter Campaign on November 19th with a goal of raising $40,000 to bring the new earbuds to market including the creation of tools needed for manufacturing. Beyond pre-orders of Decibullz itself, prospective backers can expect other rewards, including a Decibullz logo-embossed headphone case, a limited edition Kickstarter-inspired earbuds set, and an invitation to the company's launch party in Boulder, Colorado, in exchange for supporting the campaign.
For more information on Decibullz, and to keep up with the upcoming Kickstarter campaign, visit http://www.decibullz.com. Also, be sure to Like Decibullz on Facebook and Follow them on Twitter @DecibullzTweetz to stay up to date with the campaign.
ABOUT DECIBULLZ
Decibullz are custom-molded earbuds that easily and quickly mold to the shape of the user's ears. With Decibullz' custom-fit thermoplastic mold, the earbuds don't fall out, never hurt, and they provide excellent noise isolation. They are the ideal earbuds for running, cycling, working out or any on-the-go lifestyle. To learn more about Decibullz, visit http://www.decibullz.com.