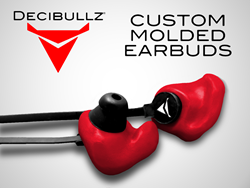 I've combined that feedback with everything I have learned in the past two years to create an even better custom-molded earbud system.
Boulder, CO (PRWEB) November 19, 2013
Decibullz, the only earbud system in the world that allows users to mold and remold the earbuds for a custom fit, officially launched a crowdfunding campaign on Kickstarter yesterday, November 18, 2013. It is virtually impossible that every set of earbuds fits every user perfectly because each person's ears are as unique as their fingerprints. Other custom earbuds can be made, but come with a high price tag and lengthy process. By using a safe, thermoplastic mold, Decibullz allow the user to mold the earbuds to their individual ears in a matter of minutes, without the exorbitant price tag. The result is an extremely comfortable, great sounding set of earbuds that won't fall out.
"For the past two years, I have been working to create an easy, affordable custom-molded earbud, and revealed the first version of Decibullz at CES 2013," notes Kyle Kirkpatrick, creator of Decibullz. "We've received some great feedback, and created an amazing following. I've combined that feedback with everything I have learned in the past two years to create an even better custom-molded earbud system."
The molding process is similar to that of molding a mouthguard, and only takes a few minutes. First, the user heats up the thermoplastic molds in a bowl of water via microwave for two minutes, and allows them to cool until they're slightly above room temperature. The molding material remains pliable for about four minutes, giving the user enough time to mold them to their ears to achieve a perfect fit. The earbuds' design has been praised, earning Decibullz a CES Innovations Award.
Kirkpatrick launched his Kickstarter campaign with a funding goal set to $40,000, the cost to manufacture Decibullz 2.0, which is vastly improved compared to the first-generation Decibullz. The new version of Decibullz incorporates improvements such as superior sound quality, greater noise isolation, and better sweat resistance, which were all enhanced based on feedback from existing customers. Additional features that have been added to the first version include a tangle-free cord, low profile design, and silicone ear tips. Decibullz also comes with a built-in microphone and remote with music controls, making Decibullz the ideal earbuds for an active lifestyle.
Yesterday marked the start of the 30-day crowdfunding campaign on Kickstarter, bringing in a whopping $7,000 within the first 12 hours. Prospective backers have the opportunity to support the campaign and receive the new earbuds in their choice of seven bold colors for just $29. Other project rewards include a moisture-wicking logo t-shirt, a set of Kickstarter-themed earbuds and more.
For more information on Decibullz, and to back the project today, visit http://bit.ly/DecibullzKS. Also, be sure to Like Decibullz on Facebook and Follow them on Twitter @DecibullzTweetz to keep up with the campaign, and learn about contests and rewards.
ABOUT DECIBULLZ
Decibullz are custom-molded earbuds that easily and quickly mold to the shape of the user's ears. With Decibullz' custom-fit thermoplastic mold, the earbuds don't fall out, never hurt, and they provide excellent noise isolation. They are the ideal earbuds for running, cycling, working out or any on-the-go lifestyle. To learn more about Decibullz, visit http://www.decibullz.com.