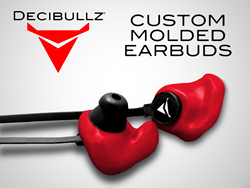 Our backers have been awesome, and are showing so much support.
Boulder, CO (PRWEB) December 05, 2013
It took a little more than one week for Decibullz 2.0, a new and improved custom-moldable earbud system, to reach its crowdfunding goal after its Kickstarter campaign launched on November 18th. With fourteen days remaining in the campaign, Decibullz has done remarkably well, raising more than $65,000 and comfortably surpassing its original funding goal of $40,000.
To continue their momentum, the team behind Decibullz has just announced two new stretch goals to enhance the product once the project has raised a certain amount of funding. If the campaign raises $80,000 or more, three new mold colors, pink, white, and light blue, will become available. This new offering will bring the total number of color choices to ten including the original colors of red, black, green, blue, orange, yellow, and purple. Should the campaign reach its second stretch goal of $100,000, the team behind the project will upgrade the sound drivers even more than they already have for version 2.0.
"Our backers have been awesome, and are showing so much support. Not only have they pledged to the project, but they've become a huge part of getting the word out and sharing their enthusiasm for Decibullz," acknowledges Kyle Kirkpatrick, creator of Decibullz. "We asked for their input when we were brainstorming stretch goals, and that's what led us to introduce these two stretch goals of more color choices and a better overall Decibullz experience."
The fully-funded campaign now guarantees that Decibullz 2.0 will be manufactured. The next generation Decibullz is an advancement in virtually every aspect over Decibullz 1.0, and has already won a CES Innovation Design Award this year. Many of the improvements have been made based on feedback and customer responses to the first-generation Decibullz. Sound quality was a point of emphasis, and Decibullz 2.0 incorporates a more crisp, full sound and powerful bass. Another new feature is a flat, tangle-free cord to reduce frustration and save time. Noise isolation has also been improved upon while music controls and a microphone are now integrated into the cord.
Decibullz solves a common problem that earbud users tend to have; almost all earbuds on the market are built using a 'one-size-fits-all' design. The result is a product which might fit some people, but fits no one perfectly. With Decibullz, users can shape their earbuds to their own ears by using the thermoplastic molds included with the earbuds. To achieve the perfect fit, the user simply heats the molds in water for two minutes each in the microwave. After cooling, the material becomes pliable to allow the user to achieve the ideal fit. The molds can be remolded over and over again; Decibullz is the only remoldable earbud system in the world.
For more information on Decibullz 2.0, and to back the project today, visit http://bit.ly/DecibullzKS. Also, be sure to Like Decibullz on Facebook and Follow them on Twitter @DecibullzTweetz to keep up with the campaign, and learn about new contests and rewards.
ABOUT DECIBULLZ
Decibullz are custom-molded earbuds that easily and quickly mold to the shape of the user's ears. With Decibullz' custom-fit thermoplastic mold, the earbuds don't fall out, never hurt, and they provide excellent noise isolation. They are the ideal earbuds for running, cycling, working out or any on-the-go lifestyle. To learn more about Decibullz, visit http://www.decibullz.com.