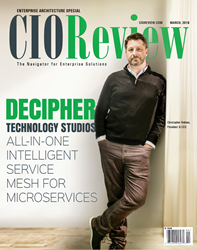 Streamline business processes and define the path to success
ALEXANDRIA, Va. (PRWEB) April 19, 2019
Decipher Technology Studios, producers of Grey Matter, the intelligent service mesh platform for enterprise microservice, container and hybrid cloud management and operations, has been listed as one of CIO Review's 20 Most Promising Enterprise Architecture (EA) Technology Providers of 2019. Recognizing the surge in popularity of customer-centric, highly accessible cloud enterprise architecture solutions, CIO Review has cited Decipher one of the EA solutions providers that "streamline business processes and define the path to success" for enterprise architecture.
CIO Review also pointed to the emergence of AI as a disruptive force in EA operational insight and process automation. Decipher's Grey Matter is built with AI in mind, leveraging a powerful underlying content delivery network (CDN) to capture service mesh data for in-depth analysis and to power machine learning enabled network operations management and automation. CIO Review's assessment that AI will "improve the customer service, decision quality, scale and operational efficiency" is in exact alignment with Decipher's vision of the future.
2019 is shaping up to be a big year for Decipher. CIO Review's mention of Decipher follows quickly on the heels of the 1.0 release of their Grey Matter intelligent service mesh platform. Decipher President and CEO Chris Holmes is also the focus of a featured cover article in the April edition of CIO Review Magazine. The full article can be accessed at cioreview.com. And Decipher's Grey Matter will also be on display at several trade events throughout the calendar year. Company technical experts will be conducting live demos and tech talks at the following industry events:

QCon, June 24-26 in New York City, NY
DoDIIS Conference, August 18-21, Tampa Bay, FL
Gartner Symposium, October 20-24, Orlando, FL
KubeCon, November 18-21, San Diego, CA
Keep an eye out for more details from Decipher as each event approaches.
About Decipher Technology Studios
Decipher develops the industrial AI powered service mesh platform, Grey Matter. Our platform delivers the reliable network performance, resource management, security, and cost efficiency in demand by today's C-suite personnel. With Grey Matter, our customers gain operational insight through intent-based automation and reporting providing maximum network reliability, performance, and resource control. Grey Matter liberates enterprise IT from these challenges, freeing CIOs, CTOs, and engineers to focus on what really matters; improving their product and growing their business.
For more information, please follow us on twitter @deciphernow or visit http://deciphernow.com/.
About Decipher's Grey Matter
Grey Matter offers the resource management, IT to business measurement analysis, security, and cost efficiency required by today's IT leaders. Grey Matter accelerates the adoption of decentralized microservice architectures. Grey Matter makes IT lifecycle management, service delivery, and network operations more straightforward, reliable and measurable to a business bottom line.
Where others only present a piece of the puzzle, Grey Matter provides the full picture. Grey Matter captures, stores, learns and summarizes every operation atop the service mesh. Providing deeper network insights than any other platform on the market, Grey Matter captures and learns from over 100 different service- and instance- route level statistics for each of your services. Your metrics are captured via decentralized data streaming, and synced and stored for in-depth service level analysis. Grey Matter allows you to use your data to produce dynamic service level overlays set to the Enterprise specified business objectives.
Tooling and dashboards are a core part of Grey Matter. Most open source alternatives require the piecemeal employment of specialized observation and analysis tools. However, the Grey Matter Dashboard presents an intuitive single-touchpoint interface displaying all your service mesh operations. Fine-grained operational visuals and analytics provide you access to timely indications and warning information designed to shrink anomaly Mean-Time-To-Detect (MTTD) and slash network down-time Mean-Time-to Restore (MTTR).
Logging, monitoring, and data retention are all modeled and programmed via observables related to actions across your service mesh - from application to infrastructure. Grey Matter publishes these events for storage and analysis making security analysis and resource change tracking simpler and troubleshooting across your service mesh and enterprise more cost-effective.
Finally, Grey Matter is designed to enable AIOps through the innovative marriage of in-depth telemetry and metrics data capture and analysis, all backed by Deep Reinforcement Learning algorithms. With Grey matter, you can leverage predictive network operational monitoring and automated response to streamline network performance, avoid outages, save costs, and realign your resources to drive further business growth and innovation.
Click here to see Grey Matter 1.0 in action!