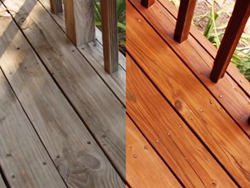 Renew Crew of Springfield MO Limited Time Deck Cleaning Specials
Springfield, MO (PRWEB) October 16, 2014
Fall is here and many homeowners are thinking about preparing their decks for the oncoming winter—which means ensuring their decks are grime-free and protected. Luckily, Renew Crew of Springfield, the leading provider of gutter, siding, concrete, and deck cleaning in the Springfield area, is now offering complimentary estimates on its famous 3-step deck cleaning process, just in time for fall. This type of expert deck cleaning is ideal for those homeowners who want to clean and protect their decks before the cold season sets in.
The combination of a rainy spring followed by a humid summer makes deck surfaces an ideal place for mold, mildew, fungus, and other grit and grime to set up camp, damaging decks and ruining the wood's natural beauty. As these substances work their way into the wood or concrete surface, small cracks form. Without cleaning and sealing, these cracks will allow water into the surface and when freezing temperatures hit, the water will expand. This makes a bigger crack, which attracts more water. This is why fall is the perfect time for Renew Crew's expert cleaning services.
Renew Crew of Springfield is backed by over 20 years experience and a unique 3-step process. The first step is an eco-friendly foam that breaks up deep down dirt. Then a gentle power wash rinses the grime and soap away. The final and most important step is a sealant that will protect your outdoor surfaces from the freezing cycle of winter.
However, homeowners of Springfield are in luck—Renew Crew of Springfield is offering complimentary deck cleaning estimates, so there are no surprises when the bill comes. For those who want to protect their deck as the winter gets colder, simply call or visit Renew Crew of Springfield's website to learn more or set up an appointment.
About Renew Crew of Springfield
Formerly known as Wood Re New, the company successfully grew their business and customer base leading to an introduction of expanded services with a new name - Renew Crew of Springfield. Renew Crew of Springfield has a specially formulated three step process to clean outside surfaces safely while keeping landscaping in tact. Step One is the application of a foam cleaner to soak and loosen dirt and grime. Step Two is similar to traditional pressure washing to spray away the grime. Step Three is the application of a protective sealant to keep outdoor spaces beautiful longer. The process is suitable for wood decks, wood fences, concrete patios, driveways, vinyl siding, stucco, log homes and many others.
Serving Springfield MO and all of Greene, Christian, Weber, Polk and Dallas Counties. Free estimates available.
Contact:
Bret McGowne
http://renewcrewspringfield.com
Renew Crew of Springfield
220 S Dysart Ave.
Springfield, MO 65802
(417) 865-9663