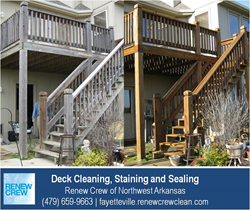 Renew Crew of Northwest Arkansas offering Deck Cleaning Specials
Springdale, AR (PRWEB) October 16, 2014
Renew Crew of Northwest Arkansas is offering a special, limited-time deck cleaning special, just in time for fall. Renew Crew serves Springdale, Arkansas and the surrounding area as the leading gutter, siding, patio, and deck cleaning and staining business.
Renew Crew's 3-step deck-cleaning process will make any dingy-looking wood deck look new again—and now, for a limited time, customers can save $50 on this one-of-a-kind professional deck cleaning opportunity.
Pressure washing (also called power washing) is extremely effective at eliminating surface dirt swiftly. In fact, for a deep, long-lasting clean surface, power washing is often the best choice. However, if done incorrectly, power washing can easily gouge a deck by rapidly blasting it with high-pressure water and harsh chemicals, leaving permanent damage to the deck's surface. The experts at Renew Crew use a gentler, specialized process to clean and protect, leaving your deck spotless.
Renew Crew's cleaning experts begin the process with a presoak, using a gentle but effective chemical foam to remove even the most stubborn dirt and grey wood fibers out from all the deck's cracks and crevices. The next step involves Renew Crew's signature pressure washing service, which eliminates grit, grim, mold, mildew, fungus, and any other unwanted substances from the surface of the deck. Then Renew Crew takes one final step— to help preserve the deck's surface, they apply a protective finish, which repels dirt and mold in order to keep the deck cleaner for longer.
The importance of protecting your outdoor surfaces before winter cannot be understated. Unprotected wood and concrete can allow water into cracks in the surface. As this water freezes, it expands, making the crack larger and damaging your surface even more.
The "Just in Time for Fall Special" won't last long, so any interested parties should take advantage of the $50 discount on Renew Crew's highly effective deck cleaning process as soon as possible.
Renew Crew of Northwest Arkansas
Formerly known as Wood Re New, the company successfully grew their business and customer base leading to an introduction of expanded services with a new name - Renew Crew of Northwest Arkansas. Renew Crew of Northwest Arkansas has a specially formulated three step process to clean outside surfaces safely while keeping landscaping in tact. Step One is the application of a foam cleaner to soak and loosen dirt and grime. Step Two sprays away the grime using techniques that are gentler than traditional pressure washing. Step Three is the application of a protective sealant to keep outdoor spaces beautiful longer. The process is suitable for wood decks, wood fences, concrete patios, driveways, vinyl siding, stucco, log homes and many others. Serving Serving all of NW Arkansas including Prairie Grove, Farmington, Fayetteville, Springdale, Lowell, Rogers, Bentonville and Bella Vista. Free estimates available.
Contact
Kevin McVey
http://fayetteville.renewcrewclean.com
Renew Crew of Northwest Arkansas
2231 Lowell Rd., Suite H4
Springdale, Arkansas 72764
(479) 659-9663