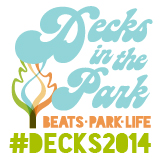 The drone video footage is a must watch!
Dallas, TX (PRWEB) June 17, 2014
In case you missed it, here is what happened last time in the amazing drone video. Watch these videos also.
Take a trip to Kyle Warren Park on any given day and you will find flocks of Dallasites enjoying the park and all it has to offer. Head there on the 4th Thursday of the month, and you might find a slightly different set up. This is when party people of all ages and walks of life, join together to celebrate local and internationally acclaimed DJs all in the same night. With an anticipated crowd of 5,000, June is an undeniable must see.
This installment features two of Dallas finest breed, JT Donaldson and Lance Desardi, who have produced countless amazing house music records (independently and together) over the past decade and reached huge stardom worldwide. Additionally featured is Dallas's very popular, WISH FM and Jose G on the ones and twos as well as DJ Sober.
Join us Thursday, June 26, from 7:00 p.m. to 10:45 p.m. CDT as we bring in the next set of elite DJs to delight Dallas at Klyde Warren Park in downtown Dallas: 2012 Woodall Rodgers Freeway, Dallas, TX 75201. The event is open to the public and is a free, no-cost event. This year the music festival occurs on the 4th Thursday of every month through September. For more information, visit: http://www.decksinthepark.com.
"Being involved in the Dallas music scene for almost 20 years, I have seen Dallas's musical tastes evolve as the city has grown," said Jeff Mitchell, creator of Decks in the Park. "I have always known Dallas was a very musically inclined city and that an event like Decks in the Park would be very well received. I just couldn't find the right venue. I wanted to bring that great music festival vibe into downtown Dallas and now with Klyde Warren Park being opened, I saw it as the perfect space. From the architectural design, to the energy it brings to the city and the amazing sights of the downtown skyline at night, I knew that this was the perfect space for the event."
Decks in the Park would remain a mere vision, were it not for the generous support of sponsors like Travelocity, which is headquartered in the DFW area, and encourages travelers to "Go & Smell the Roses"… even in their own city!
We are also honored to have the support of great partners like Sewell Subaru of Dallas, CultureMap Dallas, Events Moderńe, The Modern Home Guy, Spun Group and Nightlife Dallas. All of which make this event possible.
About Decks in the Park
Our mission is to leave a long lasting musical legacy in the city that connects and exposes people to new sites and sounds along with enjoying public spaces.
Beats: Expand the musical culture and awareness for all ages in the city.
Park: Inspire the use of public spaces in the urban environment.
Life: Enhance quality of life in the community by connecting people through music.