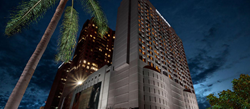 Declan Suites San Diego announces special offers to welcome summer visitors to their downtown San Diego hotel.
San Diego, CA (PRWEB) June 30, 2015
Declan Suites San Diego announces special offers to welcome summer visitors to their downtown San Diego hotel. This all-suites property boasts an ideal location that is perfect for both business and leisure guests. The hotel's impressive special offers can be viewed on Declan Suite's website. View offer details >
All of the accommodations at this San Diego Hotel are 2-bedroom suites, and many boast gorgeous city views and views of the harbor. Declan Suites sits adjacent to Symphony Hall, and it is located near parks, museums, restaurants, and shopping. Top San Diego conference centers are also located moments away.
Some of the summer offers at Declan Suites San Diego are:
California Staycation Offer
California residents who want to enjoy a San Diego getaway can take advantage of a great rate just for residents of the state.
Park and Play Package
This special offer includes parking at no additional fee along with a great room rate.
Pet-Friendly Package
Free high-speed internet and a special basket of goodies for the four-legged family members are included with this special offer.
Romance Package
Gorgeous views, a premier king bed suite, a bottle of champagne and a treat of chocolate covered strawberries await those who choose the Romance Package at Declan Suites. Breakfast for 2 is also included.
San Diego Zoo Package
This popular package includes tickets to 1 of the top San Diego Attractions: San Diego Zoo. Visitors who choose this package will get 1 adult and 1 child's ticket. There will be no need to wait in the long entrance lines at the zoo, and a special zoo-themed gift basket will be waiting in the Guest Suite.
Other offers are also available, and details to all of the current offers can found online. Visit Declan Suite's Website to see photos of the guest suites and learn more about this downtown San Diego hotel.
About Declan Suites – A San Diego Hotel:
Both business and leisure travelers find the Accommodations at Declan Suites to be a perfect choice. This San Diego Hotel is an all-suite property, and the 2-room guest suites are some of the largest in the city. This is the only all-suite Hotel in Downtown San Diego.
Declan Suites – A San Diego Hotel is conveniently located adjacent to Symphony Hall. The luxurious Hotel is also within walking distance of some of the most popular San Diego Attractions including the San Diego Zoo and some of the city's top Museums.
A host of Dining and Shopping options are also available near this Downtown San Diego Hotel, but guests don't have to leave the building when they are hungry. Declan Suites has an onsite Restaurant for those nights when guests would rather stay in and get a little work done or, perhaps, enjoy the gorgeous views of the city skyline from their Guest Suite.
The 24-hour fitness center, knowledgeable Concierge, and thoughtful amenities are a few of the other features that make this San Diego Hotel a top choice for business and leisure travelers.
Planning a visit? Choose Declan Suites. The fabulous location, well-appointed Guest Suites and exemplary service make this Downtown San Diego Hotel an ideal choice. Those planning a visit can make reservations online or call 855.968.3429.
View the Guest Suites at Declan Suites and of the beautiful city of San Diego.