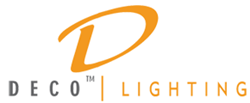 Commerce, CA (PRWEB) September 26, 2014
Deco Lighting, a leading manufacturer of innovative energy-saving lighting solutions, attended the Hathaway-Sycamores Child and Family Services' Celebrating Children Awards Reception on Friday, September 16th at Dodger's Stadium. Hathaway-Sycamores board member, Ken Goldstein, who was heavily involved in organizing the reception, invited Deco Lighting to attend the fundraising event, which will help provide mental-health support services to over 8,500 children, youth, and families. Representing Deco at the celebration were Deco Lighting CEO, Sam Sinai, and National Sales Manager, Steve Schwartz.
"There's a reason the earth is circular," says Sinai. "It's because what comes around goes around, and we at Deco Lighting believe that the good things we do for others come back to us ten-fold. There's nothing we'd rather do than help support children in need."
Hathaway-Sycamores Child and Family Services is a mental health and welfare agency with several locations throughout Southern California. Offering a wide range of comprehensive programs including foster care and adoption, outpatient and school-based mental health services, afterschool tutoring, and many more valuable services, Hathaway-Sycamores and Family Services aims to provide youth and families facing serious life challenges with opportunities to thrive.
As Silver Box sponsors of the event, Deco Lighting was given the opportunity to take a tour of Dodger Stadium, which featured a visit down to the field, a trip to the Dodger Dugout, and a walk through the Vin Scully Press Box. With Dodger Stadium all to themselves, guests were able to watch the Blue Crew play the Rockies live from Colorado on the big screen. Attendees were also offered the chance to meet former Dodger third baseman and six-time National League All-Star, Ron Cey, who signed autographs at the reception. During the celebration, honorees Annsley and George Strong, were awarded The Celebrating Children Award for their commitment to improving the lives of children. Truly a wonderful and rewarding event, the reception was complete with a dinner buffet, a cocktail party, a live auction, gift bags, and raffles.
"Seeing Vin Scully was a real treat," says Schwartz. "This was a first-class event all the way. It was a great way to have fun while contributing to one of the finest charities in the nation."
Deco Lighting is based in Commerce, California and offers the latest in green technology, energy saving lighting, and efficient controls. Continually winning industry awards and patents for their unique product designs, Deco offers an exceptionally strong portfolio of quality products and is committed to utilizing cutting-edge lighting technologies that improve lighting quality, increase efficiency, and sustain the environment through reduced energy consumption.