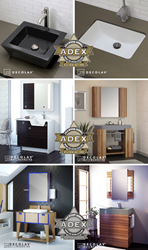 Changing The Way You View The Bathroom
Boca Raton, FL (PRWEB) May 28, 2014
DECOLAV®, manufacturer of a wide range of high quality bath products has been awarded with six ADEX Awards this year to add on to their list of awards and achievements within the company.
DECOLAV's award winning products designed by Matt Muenster, will be launched June 1st, and will be available for purchase on July 1st.
ADEX stands for Awards for Design Excellence and is the largest and most prestigious awards program for product & project design in the A&D industry. There were over 500 companies that applied and over 2,852 product entries of whom DECOLAV® was selected as winners. Companies were honored for their achievements in the areas of product design of furnishings marketed to the design trade industry. Design Journal, the international trade publication for interior designers, architects and facility managers since 1988 is the proud sponsor of the ADEX Awards. DECOLAV® has been winners of various ADEX Awards since 2003.
As one of over 300 specific Kitchen & Bath manufacturers, DECOLAV® was selected based on an evaluation based on their level of expertise, design elements, materials, creativity, versatility, functionality and overall design of products. ADEX Judging was divided into three award levels, Platinum, Gold or Silver. DECOLAV® received two PLATINUM awards and four GOLD Awards this year.
Some new products from DECOLAV's exclusive upcoming collection with HGTV Bath Crashers Host, Interior Designer & Licensed Contractor, Matt Muenster were among the winners this year. The exclusive collection which includes vanities, lavatories and accessories will debut in Summer 2014. Four products from the collection were 2014 ADEX Winners without even being released to the public for purchase.
For more information about DECOLAV's ADEX Awards, the DECOLAV® Matt Muenster Collection®, release dates, product features and more please follow DECOLAV® on Facebook and Twitter.