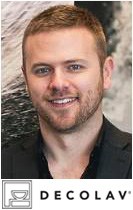 "The 2014 Matt Muenster Collection is going to be an industry changer."
Boca Raton, FL (PRWEB) September 27, 2013
"The Matt Muenster Collection is an exciting partnership for our organization," says Robert Mayer, the company's President and Founder. "Matt's designs were created with the end-user in mind. The Matt Muenster Collection solidifies his years of personal interactions with our target market, knowledge of unique materials, and versatile functionality to produce his inspiration. The 2014 Matt Muenster Collection is going to be an industry changer."
About Matt Muenster
As an Interior Designer and Licensed Contractor, Matt Muenster sees every project as a chance to challenge the boundaries of design while keeping functionality and design in mind. After earning an interior design degree from the University of Wisconsin at Madison, Matt began to hone his skills by designing restaurants, casinos, high-end residence and the Capitol Building in Angola.
To date, Matt has hosted 65 episodes of BATHtastic! followed by over 100 episodes of Bath Crashers – both top rated series on DIY and HGTV Networks. Using his unique platform to change the landscape of bath design, Matt enhances the bathroom by implementing amenities, finishes and design elements previously unimagined.
Matt's prior use of DECOLAV® products on his show and desire to have his own line of bathroom fixtures lead to this extraordinary partnership. The door has finally been unlocked between affordable custom design bath furnishings and the consumer by incorporating high design elements featured on his shows and making them available to your consumers.
For more information about the collections features, release dates and pre-orders follow DECOLAV® on Twitter and Facebook.