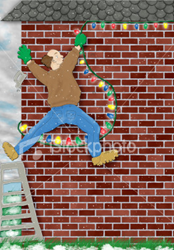 As homeowners are decorating their homes for the holidays it is important to follow these simple safety tips from industry experts so they do not hurt themselves or someone else.
Pittsburgh, Pennsylvania (PRWEB) December 10, 2013
Decorating for Christmas, and all of the winter holidays is a long-standing tradition, but many holiday decorations also come with significant fire risks. In fact, the National Fire Protection Association estimate that there's more than 240 fires every year that involve Christmas tree, and an additional 150 that result from holiday lighting. These Christmas decoration-related fires account for 21 deaths a year. AlarmSystemReport.com, a site providing reviews of top alarm companies including Vivint reviews and ADT reviews, has created a list of holiday decorating tips to help keep people safe and secure.
1. When selecting a Christmas tree, look for one that has fresh green needles that feel sticky when touched. If a tree's trunk is bounced on the ground and the needles fall off, it's likely an old tree that's going to be too dry.
2. Don't place Christmas trees near any heating source, including heating vents and fireplaces.
3. Keep the tree's stand filled with water at all times.
4. Do a thorough inspection of all holiday lights and be on the lookout for wires that are frayed, have kinking or signs of excessive wear.
5. Before beginning holiday decorating, check all smoke detectors to ensure they're working properly. Smoke detectors, aside from home burglar alarms, are the best alarm system for the home, in terms of providing life-saving benefits.
6. Don't overload electrical outlets with holiday lights and decorations. No more than three light strands should be linked, unless it's specifically directed by the light manufacturer that this is okay.
7. Check the wires of the lights frequently to make sure they don't feel warm.
8. Only choose non-flammable tree decorations.
9. Consider replacing candles with battery-operated flameless candles.
10. If candles are part of Christmas decorations, they should be placed in stable holders, and located at least one foot from anything that's flammable.
11. Don't block the exits of a home with any decorations or a Christmas tree.
12. Turn off Christmas tree lights every night before going to bed, as well as any other decorations plugged into electrical outlets.
13. Not just real trees are a fire hazard—artificial trees can also be a fire hazard, so the same rules should be followed.
14. Trees should remain up for a maximum of four weeks, and this is only if they're well-watered throughout this time period.
About AlarmSystemReport.com
AlarmSystemReport.com is a site providing unbiased, comprehensive information and reviews about home alarm and security systems in every region of the country, included the heavily populated Northeast region. Residents of every state can find information, from New York security systems, to Pennsylvania security systems. All information is independently created by a team of highly experienced security professionals.