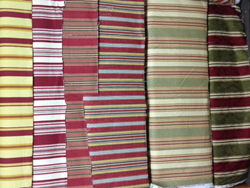 San Mateo, CA (PRWEB) June 30, 2014
With the finest decorative fabric inventory in Northern California, Norman S. Bernie Co, serving the San Francisco Bay Area since 1957, always has strived to provide the greatest range of upholstery fabrics and drapery fabrics for their very discriminating customers. It is with that in mind that Norman S. Bernie Co. is constantly looking for more ways to serve their loyal customers. Ideally, with more decorative fabrics to choose from, customers have more options, and are better able to tailor these choices to their needs.
Norman S. Bernie Co. is announcing the recent arrival of beautiful new patterns from trusted suppliers such as Crestmont: "Rawhide: Sand" and "New Bali: Copen", two lovely solid-colored drapery fabrics; from Mitchell: solid faux leathers - "Luxury" in Black and Pecan, and one of their "StaKleen" patterns: "Pippa: Nigella"; from Leslie Jee: "Notion: Cream Puff", a beautiful basket-woven upholstery fabric; and reordered because of popular demand from Swavelle/Mill Creek: "Katniss: Tangerine", a lush and colorful zebra-like pattern, also available in "Peacock".
As summer is in full swing, with remodeling and redecorating reaching a fevered pitch, there is no better time to take advantage of the gorgeous and extensive inventory of exceptionally beautiful upholstery fabrics and curtain fabrics, and the expert and friendly staff, at Norman S. Bernie Co., the one-stop destination for decorative fabrics, at discounted prices, in the San Francisco Bay Area.