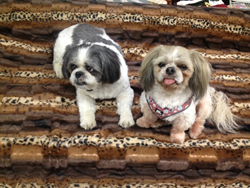 San Mateo, CA (PRWEB) September 29, 2014
Norman S. Bernie Co. prides itself on having the finest decorative fabric inventory in Northern California, serving the greater San Francisco Bay Area for almost 60 years. And animal-patterned decorative fabrics and fake furs are an essential part of their vast and beautiful inventory, ideal for anyone wanting to enliven and provide contrast, energizing their existing decor.
In addition to the in-stock animal-patterned favorites such as "Crazy Ol' Bird", "Something Fishy","Monkeying Around", and "Cluck U" from Swavelle/Mill Creek Fabrics, Norman S. Bernie Co. is announcing the arrival September 30th of a reordered favorite, "Crabwalk: Aqua", also from Swavelle. And, having just arrived is a stunning abstract leopard spotted cut velvet: "Rorschach: Eggplant", a wonderful complement to other in-stock patterns, "Zebra: Sublime", "Leopard: Lime", "Grevy: Zebra", "Cheetah: Fudge", "Cheetah: Nutella", "Spots: Mineral", "Tiger: Brown", and "Siamese: Nubex". And customers should not miss "Petroglyph: Night", a striking tapestry chenille depicting ancient wall paintings.
In-stock imported fake furs now available at Norman Bernie Co. include "Grooved Beaver Fur: Brown", "Cuddle Leopard Fur", "Chinchilla", "Alaskan Fox", "Lynx", "Porcupine" and many more Norman Bernie Co. can special order.
Whether customers are looking for animal-patterned decorative fabrics as accents, or to use as upholstery fabrics and even as drapery fabrics, they are sure to brighten up any decor. So why wait? Pictures don't do these patterns justice, so make a date to visit Norman S. Bernie Co., to see and feel these beautiful decorative fabrics at discounted prices, and be treated to the friendliest and most expert customer service in the industry.