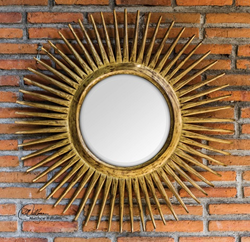 Choosing a mirror intended for another part of the home is an easy way to add a lot of style without making any major sacrifices; it's a one-to-one swap with the mirror that's already there, but adds an intentional, designer feel and a bold statement.
(PRWEB) November 04, 2014
HomeThangs.com – the Online Home Improvement Store has made their goal to deliver the right product to the consumer. With that in mind, shopping and home design tips, as well as special product selections are being introduced.
Most bathroom mirrors are fairly plain, with basic frames (or none at all) and very little embellishment. Upgrading to a decorative mirror is an easy, inexpensive way to make a bold statement, but it isn't without its pitfalls. HomeThangs.com has released a new guide to some of the pros and cons of this unique style choice.
Eye-catching mirrors are an oddity in the bathroom, which means they can make a powerful statement, even without making any other changes. An oversized mirror with a showy, distinctive frame is a picture perfect focal point for any sized bathroom, and the central placement makes it a significant design feature. Unusually shaped mirrors can have a gorgeous, architectural quality, while mirrors with very distinctive frames are great for building a theme bathroom.
That said, opting for a mirror that wasn't designed to go in the bathroom means sacrificing a significant chunk of storage space in the area over the bathroom vanity. Designer mirrors don't have built in storage, and they aren't always a great substitute for a medicine cabinet in a bathroom where storage space is scarce. An unusually shaped or especially large mirror can also get in the way of the over cabinet lighting, making it necessary to remove or relocate the lighting fixture and potentially reducing the amount of light in a place where it's really needed. Also, designer options that might look great – like hanging a series of small, decorative mirrors rather than a single large one – can reduce the functionality of the mirror overall.
For more details about decorating with a designer mirror, and to see some examples of different eye-catching styles in action, check out the full article here.
HomeThangs.com is not only a home improvement superstore, it also provides expert design tips and a comprehensive shopping guide, taking the ideas from professional interior designers, and offering tips to the consumers on how to pick the products to best suit their needs.