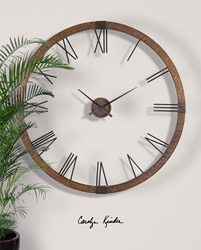 Since all clocks offer the same basic functionality, it's important to think of designer clocks more like artwork, and be picky about finding a clock that will enhance the room it's in.
(PRWEB) June 17, 2014
HomeThangs.com – the Online Home Improvement Store has made their goal to deliver the right product to the consumer. With that in mind, shopping and home design tips, as well as special product selections are being introduced.
In a day and age where practically everyone has a digital clock strapped to their bodies at all times, analog clocks have fallen a bit out of favor. After all, when the time is just a glance at a cellphone away, wristwatches become little more than fashion accessories and wall clocks practically obsolete. But these days many clocks are fashioned with an eye toward design as much as functionality. HomeThangs.com has introduced a guide to using them to dress up a living space.
These days, purely functional wall clocks are among the least desirable because they don't do anything to improve the aesthetics of a space. But envisioning the clock as an art object rather than a practical piece – say, by swapping plastic for hand hammered copper, regular numbers for roman numerals, and a generic paper body for an elegant and airy cutout design – can completely transform a clock into something worth putting on display.
The trick is to think of a clock less like a clock and more like a piece of art, and be picky about the style. There are clocks out there to suit every taste, but they all fill the same function: telling time. So pass on a clock that's anything short of perfect, and find one that will really enhance the space. The one exception to this rule is that some more artsy or abstract clocks might be a tad more difficult to read at a glance, so find one that's relatively easy to read, too.
That said, designer clocks can get quite abstract and sculptural. Rather than the typical round or oval faced clock, these are big installations designed as artwork in their own right, that just happen to have one (or sometimes more) clock faces. A vintage industrial/steampunk cog-and-gear design is a fairly common theme, but these large designer clocks can take almost any form or be made out of any material, from sheet metal to driftwood.
Big clock installations with multiple clock faces are also great for people who work with international clients or customers and want to be able to keep track of time in multiple timezones at once without making their living room look like the wall of a stock exchange. An ornate, sculptural clock with multiple faces will look much more natural than a swath of standard black and white clocks in all but the most modern of home decors, but provides the same functionality.
Another great way to turn a clock into a statement piece is to look for ones that include additional functionality – namely, ones with big, mirrored faces. Designer mirrors are another functional alternative to traditional wall art, but unlike clocks, which are mostly only good for a glance, mirrors also help make a room look and feel bigger and brighter. Placing a small clock face on a big mirror in a nice, decorative frame combines the best of all three.
It's worth saying, too, that the rarity of clocks – especially antique ones – has made them inherently sort of whimsical to look at. Vintage clocks – particularly factory clocks and maritime-inspired clocks – have seen a huge surge in popularity lately as found objects and art pieces. Sturdy, weather-worn clocks designed for heavy duty use are perfect for the industrial style design that's so popular right now, particularly ones that feature extra gadgets, gears, or knobs and have more than a little visible aging.
For more ideas about choosing a designer wall clock, check out the full article here.
HomeThangs.com is not only a home improvement superstore, it also provides expert design tips and a comprehensive shopping guide, taking the ideas from professional interior designers, and offering tips to the consumers on how to pick the products to best suit their needs.