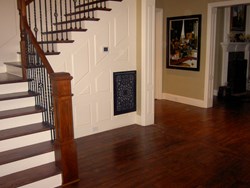 Fancy Vents can be installed in 15 minutes and literally transform the look of your entire room.
Nashville, TN (PRWEB) August 20, 2013
Chances are most homeowners will realize at one point that the air return vent installed with the typical heating and air system does not match a home's décor; it's boring and ugly. Fancy Vents is a simple and easy solution to transform boring into a beautiful custom crafted work of art. Fancy Vents offers unique custom-sized vent covers which complement a home's décor without spoiling the functionality of its air return grille.
Based in Nashville, Fancy Vents is run by a husband and wife team - Earl Tatom and Cindy Moore. The designs created by Cindy and Earl adds the fabricating expertise to yield a beautiful and functional product. Choose from traditional to ultra modern designs available in various sizes and durable powder coated finishes. These unique covers are sure to add a touch of glamour and create a conversation piece for any home. For something even more unique, Cindy often works directly with homeowners to create a fully custom return air vent design. Cindy is often asked about installing the new vents. "I tell our customers, installing a Fancy Vent is easy, in fact, we call it a 15-minute remodel, because in just 15 minutes you can have your new Fancy Vent installed and ready, and it will literally transform the look of your entire room."
Recently Fancy Vents was chosen to contribute to Southern Living's Idea House. Cindy of Fancy Vents explains, "It is an honor to be part of any Southern Living project, especially the Idea House. Fancy Vents custom built all of the covers, both wall and ceiling, for the Idea House. The two patterns were specifically designed to complement the straightforward style of the Farmhouse."
About the Company
Fancy Vents is run by entrepreneur couple Cindy Moore and Earl Tatom. The company was born when Earl created a vent cover for the couple's own home. Gradually friends and family became intrigued and wanted to purchase the custom vent cover. Fancy Vents was born in 2008 from its humble beginning in the basement of the couple's home. Today Fancy Vents operates a fabrication, a studio dedicated to the design and construction of the decorative return air vents. Fancy Vents exhibits at many home shows throughout the southeast, and the custom vents may be seen at the Home Design Expo Center in Nashville, TN. Ordering a Fancy Vent is easy; browse the online gallery, see designs, choose a filter size and color. Fancy Vents is currently running a giveaway; visit the site to sign up to win a Fancy Vent.