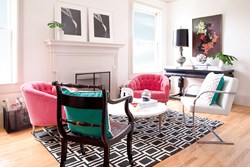 "Your home doesn't need to look like a magazine. And you don't have to spend a lot of money for it to feel transformed. It just needs to be about you. That's what Decorist is about." - Gretchen Hansen, Co-Founder & CEO
San Francisco, CA (PRWEB) January 08, 2014
Decorist, a female-led startup dedicated to reinventing interior design by making it personal, affordable and easy, has launched. Decorist.com's personalized web-based platform - the first of its kind - aims to bring consumers closer to products and rooms that reflect their unique style as well as make professional design advice accessible.
The idea for Decorist was inspired by co-founder Gretchen Hansen's challenges decorating her own home. "The reality is that millions of women have to be their own interior designers," says Hansen. "While they care deeply about the look of their homes, the process of finding furniture in their style, and putting it together in a way that looks good, can be overwhelming and intimidating." For most, professional, impartial advice is out of reach financially.
Decorist changes this model in two, differentiating ways. First, the site provides daily, style-based home décor and furniture recommendations. Product finds are sourced by Decorist's talented team of designers from retailers large and small, as well as vintage stores and flash sale sites. Every client sees something different each day based on her unique style and budget.
This personalization – which is at the heart of Decorist – is enabled by the patent-pending profile quiz that clients take upon their first visit to the site. "In a world where there is so much to choose from, our ability to curate and deliver only what's "within style" for each client is a core benefit and sets us apart from other sites. We make it easy for people to find products that they love and that reflect their design sensibility," says co-founder and Head of Product Development Julie Thompson.
Second, Decorist offers four, affordable Designer Solutions ranging from a question answered for free to a $169 Mini-Makeover. For the makeover, a client uploads pictures of their space and briefly describes their style challenge and budget. Within 5 days, Decorist designers create a custom design board with recommendations and a clickable shopping list. "Our beta consumers loved it," Hansen says, because we gave them actionable suggestions for how to transform their space, through a really easy process and without their having to spend a lot of money. Designers also love it because they get to focus on the creative part of the job."
Co-founders Hansen and Thompson have assembled an all-female, design-passionate leadership team. Both Hansen and Thompson have extensive experience building winning consumer propositions and profitable businesses. Hansen led product and then major partnerships for PeoplePC.com from inception to IPO. From 2008 until 2013 Thompson was Vice President of Product at Eventbrite where she helped build the first personal ticketing recommendation system and significantly contributed to the company's $1.5B in cumulative sales.
About Decorist:
Decorist is the first personalized, software-based home design marketplace. For consumers, Decorist makes home design personal, affordable and easy. For designers, Decorist makes work flexible, easy and rewarding. Through personalization, Decorist delivers style-based product recommendations as well as affordable design advice.