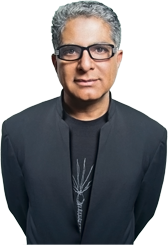 Carlsbad, CA (PRWEB) August 16, 2013
The Chopra Foundation invites everyone to take part in a fantastic journey into the intersection of science and spirituality the weekend of August 16 – 18, 2013. The live streaming broadcast of the Foundation's Fourth Annual Sages and Scientist Symposium is available for viewing from anywhere on the Chopra Foundation website: http://www.ustream.tv/channel/sages-scientists/.
This historic event can also be watched on the Ustream website by going to http://www.ustream.tv and searching the phrase "Sages and Scientists" during the following hours:
Friday, August 16 - 1 pm to 9 pm Pacific Time
Saturday, August 17- 8 am to 9 pm Pacific Time
Sunday, August 18 - 8 am to 12:30 pm Pacific Time
The complete schedule of presenters, panelists and their speaking topics is located at: http://www.choprafoundation.org/events-initiatives/sages-scientists/schedule/.
About the Sages and Scientist Symposium
Moderated by Deepak Chopra, the Chopra Foundation's Sages and Scientists Symposium is an exploration of the stream of fantastic new discoveries flowing from the scientific community, and its relevance with ancient spiritual beliefs to find a single reality.
This assemblage of some of the greatest minds in science, business, healthcare, and humanity offer viewers a unique mind-expanding experience. Presenters include progressive media giant Arianna Huffington, Walt Disney Imagineering creative development leader Peter McGrath, former Mexican president Vicente Fox, Special Olympics CEO Tim Shriver, Empowerment Institute CEO David Gershon, UCSF Associate Professor Elissa Epel, and Harvard University astronomy professor Dimitar Sasselov.
The weekend is punctuated with equally mind-blowing performances, including a tribute to Dr. Martin Luther King Jr. by Grammy-Award-winning violinist Miri Ben-Ari.
Symposium presentations fall into five major categories:

Science and Consciousness—Qualia: Going Beyond Quantum Mechanics and Quantum Physics
Leadership—Defining a New Leadership: Serving a New Humanity
Well-being—Conscious Living ~ Sustainability, Environment, Health, Technology, Education, Economy, Relationships
Peace and Justice—Living Harmoniously
World Transformation—Challenges and Creative Solutions: It's Time to Do
This year's Sages and Scientists Symposium pays special tribute to the civil rights movement almost 50 years to the day since Reverend Martin Luther King, Jr. delivered his "I Have a Dream" speech. Presentations on this topic include:
The Nonviolent Movement of the 1960s: A Legacy for Today - presented by Diane Nash
The Legacy of Dr. King's Commitment to Nonviolence: The 21st Century Challenge to Our Nation - presented by Dr. Clarence Benjamin Jones
Navigating the Racial Terrain - presented by Dr. Terrence James Roberts
About the Chopra Foundation
The Chopra Foundation is a 501 (c) (3) organization dedicated to improving health and well-being, cultivating spiritual knowledge, expanding consciousness, and promoting world peace to all members of the human family.
The organization's mission is to participate with individuals and organizations in creating critical mass for a peaceful, just, sustainable, and healthy world through scientifically and experientially exploring non-dual consciousness as the ground of existence and applying this understanding in the enhancement of health, business, leadership, and conflict resolution.
To learn more about the Chopra Foundation, please visit the Foundation's website: choprafoundation.org.